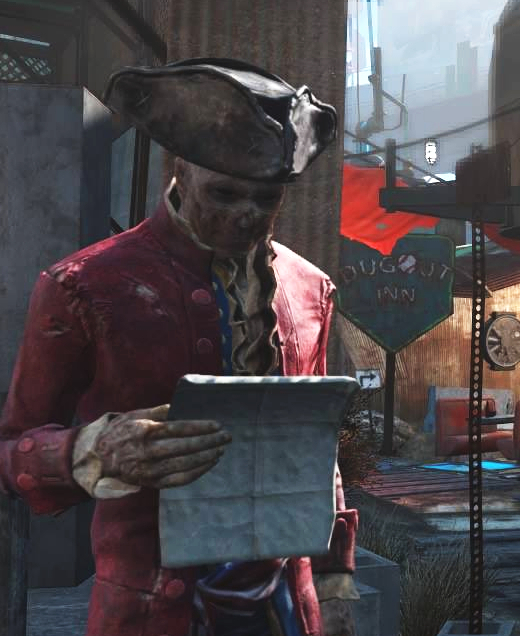 * * WARNING: ADULT CONTENT * *
Infidelity, confrontation & heartbreak at a saloon & brothel. Fiona leaves her husband MacCready for the ghoul mayor of Goodneighbor, John Hancock. "All In" wraps up the series.
This story is about twice as long as others in the series. Other stories also had a single point of view, such as "MacCready's Lucky Cap" being told entirely from MacCready's perspective, "Cold Cruel World" from Fiona's perspective, and "Happy Birthday, Fiona" from Hancock's perspective.
In this installment, however, the POV switches between Hancock, MacCready, Fiona and Cait, as events unfold at the Treasure of Jamaica Plain.
For context, I recommend reading earlier stories in the series, but it's not absolutely necessary.
All of my fanfiction is posted on AO3 if you prefer, where I write under the name Jewelsmith (like my YouTube and Twitch channels).
This is based on my first playthrough of Fallout 4.  If you'd like to see Fiona and my Fallout 4 settlement tours and gameplay videos, check out my YouTube channel.
If you'd like to see the actual Treasure of Jamaica Plains brothel I built in Fallout 4, click here.
Fallout 4 spoilers, adult language, and explicit sex.
4,280 words
"All In"
Hancock had no clue what would happen next. Scratching the itch didn't make it go away, it made it worse. He wouldn't feel right without another dose of Fiona. The way she looked at him and called him "John," all soft and suggestive, he liked it. He liked it too fucking much.
The smell of her still clung to his clothes, and all the liquor in the wasteland couldn't make him forget the way she tasted.
When Hancock got an addiction, he secured his supply. That's why he protected Marowski, sheltered him in Goodneighbor. That's why he lobbied for a bar in every settlement. That's why he wanted to keep Fiona close.
But what did she want? 
When her husband found out – and that was a definite "when" not "if" – he might put a bullet in Hancock's skull from two-hundred yards. MacCready was just the angry sort of shit to do it, too, the kind who hadn't cared about pissing off the Gunners, back in the day.
Would he care about pissing off Goodneighbor and the Minutemen? 
Just in case, Hancock sent a message to Fahrenheit so if he turned up dead she'd have a prime suspect.
Meanwhile, Fiona went off to do what she needed to do and Hancock stayed in Jamaica Plain to schmooze high rollers, threaten surly patrons and add an air of infamy to the place.
He carefully tended his intoxication while he considered all the things he wanted to do with her. There was the usual shit like getting high, fucking, dancing, partying, fucking, killing raiders, building bars, scavenging, killing mutants, helping the Railroad, drinking and fucking. But he found himself wanting to do corny, sentimental shit, too, like taking her for a walk around the bases of Diamond City where he grew up, serenading her at the Third Rail, or watching the sunset from the top of the church tower across the street from the Treasure. The kind of shit he would've wanted to do fifteen years ago when he was young and careless.
Okay, maybe twenty years ago.  
Alright, more like twenty-five. 
In any case, it had been a long time.
* * *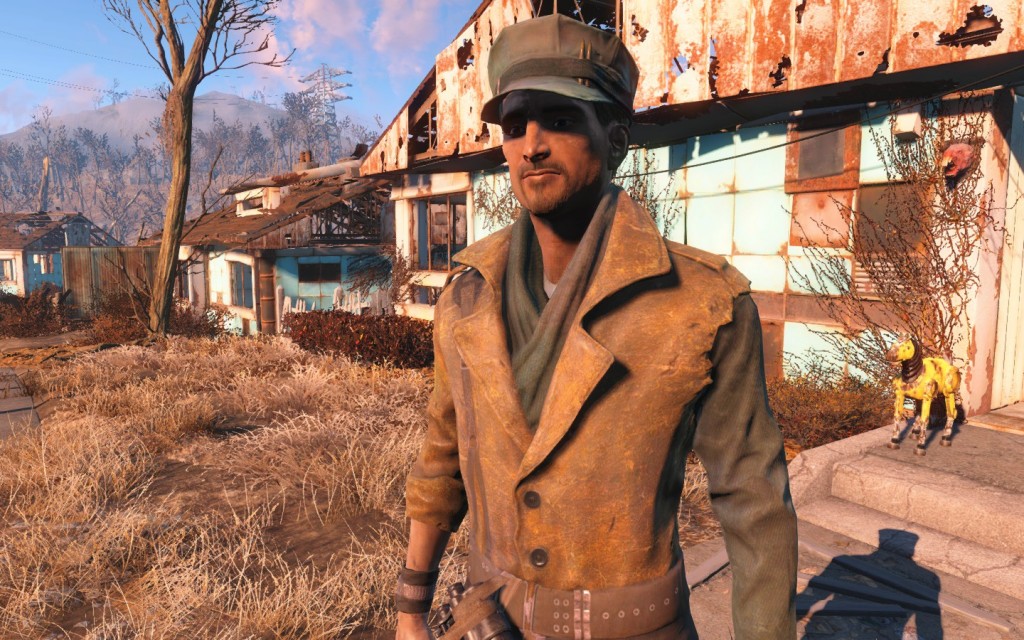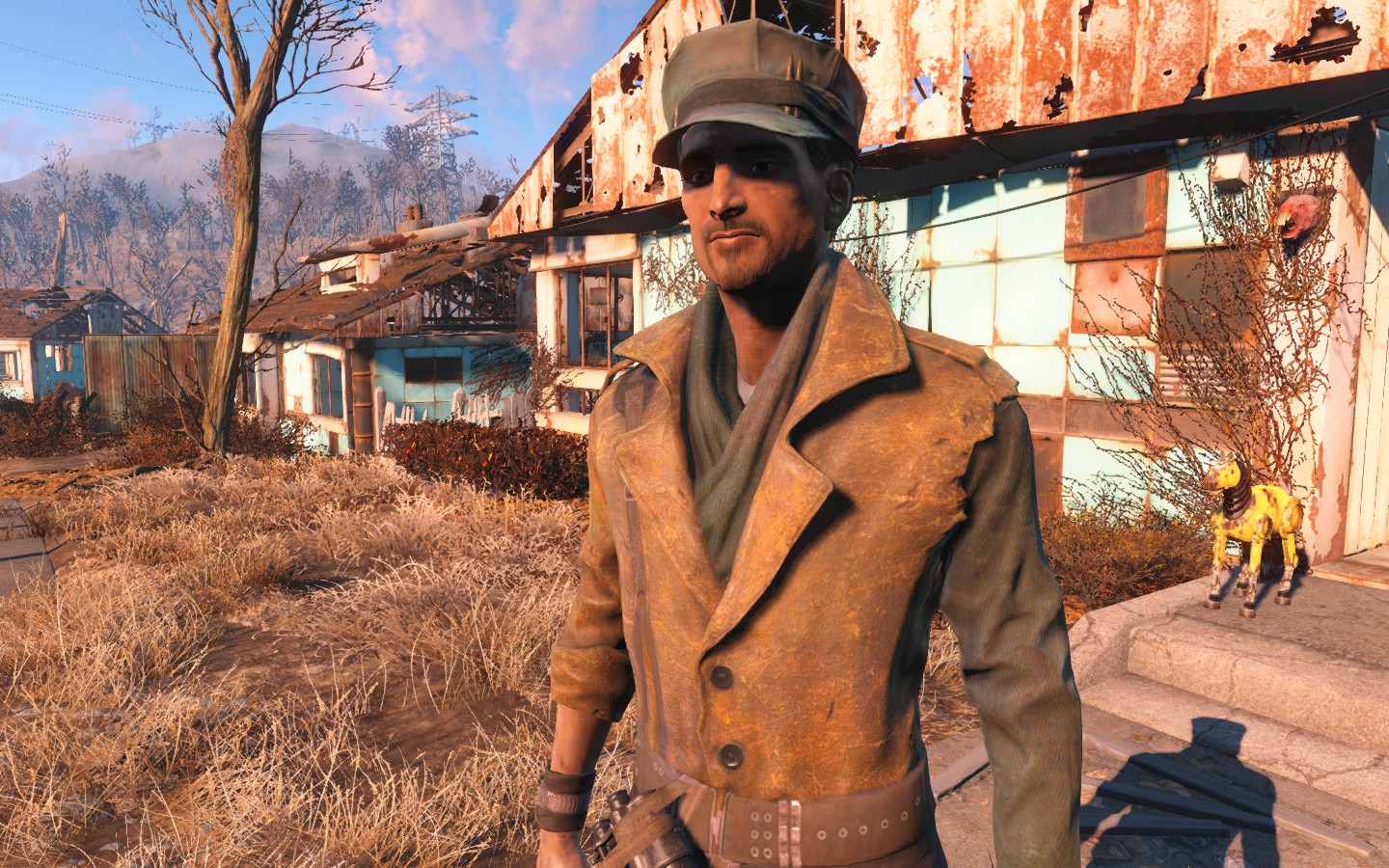 MacCready watched Fiona through his binoculars. She'd stopped at the checkpoint just outside Jamaica Plain and spent half an hour chatting with the troops.
He saw one of the Minutemen point north. Probably telling her about the synths at University Point. She touched the guy's arm a couple times while they talked. The guy laughed at something she said.
MacCready talked to himself in a mumbled whisper.
"Sure, mungo, keep laughing."
He zeroed in on the guy's head and imitated the sound of a gunshot, followed by the sound of bursting flesh and a gurgled death.
"Not so funny now, is it?"
Something was going on, and he had to find out what it was. His wife seemed unhappy and distant all the time, and her absences grew longer and longer. So he'd started trailing her at County Crossing. From there, she traveled a while with Honest Dan's caravan.
Honest my ass. 
MacCready expected to catch her slipping into Dan's sleeping bag. He'd stayed up all night, chewing coffee grounds and watching them from a rooftop outside Bunker Hill, but nothing happened.
Then he followed them to the Castle, where she met up with that son-of-a-bitch Preston Garvey who didn't like MacCready and probably told her what a mistake she'd made marrying him.
One of these days I'll take a steaming dump in his stupid hat. 
MacCready couldn't get close enough to see inside the walls of the fortress but Garvey definitely wanted to screw her, that much was obvious. Or could be she was screwing that smooth-voiced Radio Freedom guy. She spent an awful lot of time at the Castle, even for being the general.
Now she was in Jamaica Plain. From his position at the top of the old church tower, he watched her leave the checkpoint and disappear inside the Treasure.
Maybe she would meet someone there. 
As the sun set, he watched the bar until Fiona stepped into view again. She walked across the courtyard, followed by a familiar faded red coat.
MacCready's stomach twisted into knots and he squeezed his eyes tight against the tears he refused to admit were tears. Hopelessness seized him like an angry deathclaw.
Shit. No. Not Hancock. Please. 
* * *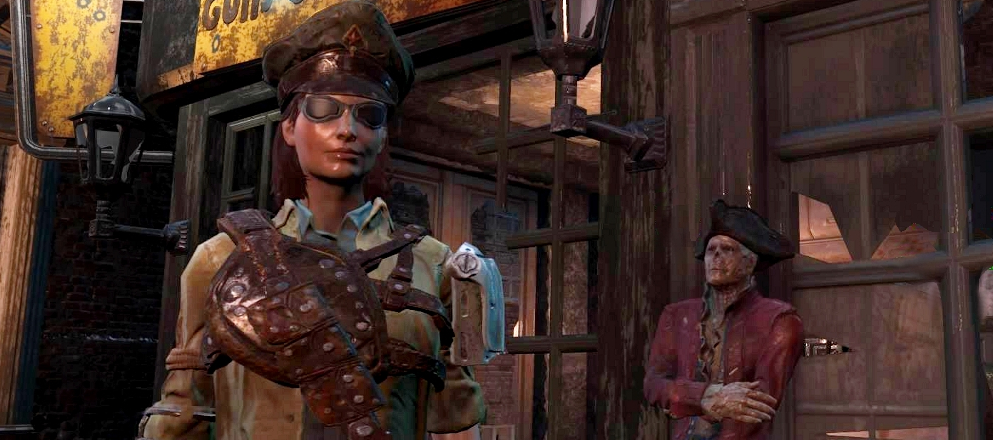 "I didn't think you'd be pining away for me." Fiona meant it as a joke but John didn't laugh.
"Are we gonna carry on like nothing happened?"
She wasn't used to him sounding so miserable.
"I'm trying to give you some space. You don't seem like a commitment kind of guy." She sat beside him on the couch in their special corner of the saloon.
He exhaled a sigh as deep and rasping as his voice. "Given my track record, I could see how you'd think that. I skipped out on my family, my life in Diamond City. Took up with you just to get outta Goodneighbor. Hell, running from myself is what made me into a damn ghoul."
"But somehow this is different, you and me?"
"It's been different for two years. Whenever I'm with you, things feel right. Whether it's fate or destiny or god damn coincidence, finding you was like finding a part of myself I didn't know was missing. Walking away is the last thing I'm going to do."
Fiona believed him. He'd been there every step of the journey, from the early days of Hangman's Alley to the battle at the Castle to wiping out the Institute. It hit her like a plasma beam through the heart, practically knocking the breath out of her. She loved him. Maybe she always had, but her head had been up her ass way too long.
"Jesus, John, I had no idea you felt that way about me." She climbed into his lap and put her arms around his neck.
"I should have told you sooner, I guess. I tried, but it was tricky." He put his hands on her ass and pulled her closer. "You're the best thing that ever happened to me, but more than that, you're the best goddamn thing that ever happened to the Commonwealth. I turned Goodneighbor into a refuge for the lost and thought I'd done something I could hang my hat on. But being around you made me realize just how small time I'd been thinking. I want to be by your side, be a part of it all. I can't see it any other way."
She tilted her head under the edge of his tricorn hat and kissed him. He reeked of cigarette smoke, whiskey, and the faint medicinal smell of jet, and all of it turned her on.
"You want to take this upstairs?"
Hancock glanced up as if he could see through the ceiling into the rooms above. "I think the red room's empty. Let's go check it out."
* * *
Cait recognized MacCready's slim silhouette even before he stepped into the glow of the Treasure's neon sign. She flashed her most charming smile.
"Hey, there, handsome. Here to sample the merchandise?" The only service she offered at the Treasure was skull cracking but she'd make an exception for him.
His mood and the circles under his eyes were darker than usual. "Me? I'm a married man."
"How about a dance then?" She nodded to the pink assaultron patrolling the courtyard. "I think Aphrodite can spare me for a few minutes."
"I'm not gonna dance where people are watching me."
"This is a fecking gambling hall full of whores. No one's watching you, MacCready. No matter how blue your eyes are."
He grunted and scanned the room. "Where's Fi?"
Cait didn't like the way he was gripping his rifle. The .50 caliber looked long, lean and angry as he was.
"Dunno, probably off having one of her meetings."
Off snogging the mayor. Cait knew what was what, which is why she didn't feel the least bit ashamed of thinking about pinning her best friend's husband to a mattress.
"What meetings? Who's she been meeting in a brothel?"
"Don't you raise your voice to me." Cait stopped him when he tried to enter the pub. "And put that gun away unless you want it rammed halfway up your arse."
All conversation in the Treasure stopped and she could hear the distant, dulcet tones of Skeeter Davis singing "The End of the World" on Diamond City radio.
Why do the birds go on singing?  Why do the stars glow above?
Don't they know it's the end of the world? It ended when I lost your love …
Aphrodite's servos whirred somewhere just behind her, waiting for MacCready's next move.
He frowned so hard she thought he might break a tooth, but he swung the weapon behind his back and pointed to the gallery.
"Are those the meeting rooms, Cait? Is that where I'll find my wife?"
She had to admire the way he deftly dodged her and elbowed her in the ribs for good measure.
Cait liked a ruckus.
* * *
Fiona shoved John against the door and it slammed shut. Her mouth and her hands were all over him, kissing his neck, and tugging at his shirt.
"Watch the coat, killer. It rips easily."
"I'll tear it off, if I have to."
He grabbed her wrists. "Respect. The. Coat."
"Alright, alright. Gentle with the frills. Rough with the man inside them."
"I'm a ghoul, sister, not a man. Tell it like it is."
When he let go, she grabbed his crotch and squeezed. "Don't call me 'sister.'"
He gasped through clenched teeth, then his ragged face broke into a grin. "Fair enough, but I need you to be okay with this freakshow, Fiona."
"I am, John, I am."
And then she set about proving it, dropping to her knees and working his dick out of his pants and into her mouth. He wasn't fully erect and she took it all in, stretching her lips to the base. With light suction, she dragged her mouth from base to tip and to the base again, gagging as he hardened and hit her throat.
He put his hands on the back of her head. "Don't move. Just hold it right there." He stroked her hair, breathing heavy and murmuring disconnected sounds and little phrases, like "yeah, that's good" and "goddamn." He didn't thrust, just seemed to enjoy being in her mouth, while her spit dripped down his hairless balls.
When he did pull out, she applied enough suction to make a little popping sound as they disconnected.
He wiped her chin with his ruffled sleeve. "Sit on the couch and show me your tits."
She moved to the red velvet sofa, unbuttoned her shirt and pushed her tits around his dick.
"Look at me." His left hand combed through her hair, pulling her head back so she could look into his dark eyes while he fucked her tits and shot a load on her chest. Her pipboy crackled.
Then he got on his knees, unbuckled her belt, tugged down her pants and buried his face in her pussy, still wearing his tricorn hat.
* * *
MacCready went for the stairs but a bulky redhead in a barbarian costume blocked him.
"C'mon, man. We can't have people running around, shouting for their spouses, it's bad for business."
Grognak was twice his size but MacCready didn't care. "Get outta my way."
Before he could take another step, someone twisted his arm behind his back and slammed his head against the bar top, narrowly missing a half-empty bottle of Bobrov's finest.
Cait loomed into his peripheral. "For fuck sake, MacCready, don't make me break your face, it would be such a waste."
A dangerously calm character with dark hair and even darker leather armor appeared at the end of the bar. He wasn't as big as the redhead, but he looked – and sounded – exactly like the kind of badass every Gunner liked to pretend they were.
"Be cool, brother. Relax here with Cait and Grognak while I find your old lady." He addressed the bartender. "Javier, get this man a drink."
"Sure thing, Crow. What do you drink, friend?"
Cait eased off and he stood up, straightened his hat and brushed cigarette ashes off his face. His shoulder hurt.
"I don't want a damn drink and I'm not your friend."
Crow clapped MacCready on the sore shoulder and dug his fingers into a painful pressure point. "Are we cool, brother?"
MacCready squirmed in pain. "We're cool."
Crow eased up but didn't let go. "Good. Let's take a walk to the workshop."
Grognak grabbed MacCready's other arm in a grip like iron while he and Crow dragged him down the back stairs and away from the Treasure.
"Wh-what's the workshop?" Crow refused to answer and MacCready dug in his heels, calling over his shoulder. "Wait! Cait! What the hell is the workshop?"
Grognak answered. "It's where we fix weapons and armor and stuff. There's a bathroom in there, if you need to go while you're waiting."
"Oh." MacCready stopped resisting and glared at the Grognak costume. "You know, I was with her when she found that at Hubris Comics."
* * *
Fiona came hard. John's fingers were still inside her and his mouth on her clit when she heard a knock.
He wiped his hands on the old striped flag he used as a belt and yelled. "This better be fucking important."
Crow answered. "It is, boss, we got a situation."
She pulled up her pants and John opened the door. "Well, don't be enigmatic, what gives?"
"The general's old man, he's here asking for her."
"Fuck." Fiona spat the word like a bad piece of molerat meat. She buttoned her shirt and double-checked Bang Bang, the 10mm in her belt holster. "Am I good or is your jizz gonna start making my tits glow in the dark?"
John adjusted his hat. "You're good. You got some Mentats or something? I don't want to start talking to him and my breath smells like you."
"He wouldn't know." She went out the door.
John followed. "No shit? And you married him?"
Crow led them to the other end of the settlement, where the staff lived in a refurbished brick apartment building. Brian was in the workshop, restraining her husband. On the other side of the old garage, Cait had Mac's rifle, ammo, knife and other gear, all piled up on the workbench.
John let her take point, hanging back and leaning against the door frame. She sent Cait and Brian back to the Treasure but kept a cautious hand on her gun. Mac glared daggers at Brian's back.
"Okay, here I am. What's so important you couldn't call me on the radio or send a message?" The settlements had their own supply routes, which allowed them to share resources and send letters. She'd even scavenged some old pre-war postal uniforms and made a rule, to emphasize their importance: Anyone who fucked with a provisioner got hunted down and killed twice as hard.
"I know something's going on, Fi. I'm not stupid."
He was mad. He was about to get madder. She wouldn't deny she deserved it. She looked at John.
John looked back. "It's your call. I'm all in."
Fiona inhaled and planted herself between Mac and his equipment, just in case he made any sudden, hotheaded moves.
"I'll send a medic to live in the boat house, in case Duncan ever gets sick again. You'll be flush in caps, Nuka-Cola and whatever else you need, for as long as I live. It's the least I can do for helping take down the Institute. But I won't be living at Taffington any more."
Mac liked caps and he especially liked a balanced ledger. She hoped a lifetime bribe might persuade him not to get too ornery about breaking up.
"Are you… leaving me?" He looked like he'd been stunned by a pulse grenade. He blinked several times and struggled to find words. He settled on, "We've got a life together."
"Together?" She had to laugh or she might punch him in the face out of months of pent-up frustration. "I've been scavenging screws, clearing rubble, planting crops, stockpiling weapons and ammo, opening bars, medical centers and manufacturing hubs, building power armor, trying to keep the Brotherhood from commandeering every last carrot, and where have you been, Mac? Where the fuck have you been?"
"Waiting for you to come home!" She heard a catch in his voice. "I … love you."
"What exactly do you love about me, Mac?"
He teared up. "It killed me… it fucking killed me… when you stepped on that molecular relay platform and I thought I'd never see you again. I got so drunk, I threw up on Sturges. And it's killing me now, always wondering where you are, why you haven't come back…"
"You're telling me how you feel. You're not telling me why you love me."
"What am I supposed to say? I don't know why, I just do."
"And yet you bitch at me every time I search a filing cabinet. You complain when you have to haul weapons back to an undefended settlement. You sit at Taffington on your ass while I run the Minutemen and build settlements."
"You told me you were only going to be the general long enough to find Shaun. Haven't you done enough yet?"
"We don't make each other happy. Let's just stop arguing about it so we can move on."
"I'm sorry I didn't get you anything for your birthday. I don't celebrate birthdays because I don't have one."
"This is not because you forgot my birthday."
"No marriage is perfect, Fi. That's what being married means, it means putting up with each other's crap."
John muttered. "Sounds more like a hostage situation."
Damn, how he enjoyed lobbing grenades. 
Mac exploded. "Oh, I'm SORRY she has a husband who LOVES her, who's waiting around for her to come home and help him weed the tatos, hug a kid, maybe sit on the porch and drink together until the stars get blurry. How HORRIBLE."
A bare bulb dangled from the ceiling and its light glinted off of Nate's ring. Mac wore it on his left hand. He might offer to give it back but she wouldn't ask for it. She didn't need it any more.
"It's what I thought I wanted, but things changed. I tried to tell you, last time I saw you."
He sniffled. "What about Duncan?"
"Tell him I love him. He has you, Trash, Vicki, Bob and Maria. I'll still come around to see him, if it's okay with you. He'll be fine. You're a good dad."
He took a moment to gather his thoughts and wipe snot on his sleeve.
"Why is this crap more important than being with me? I mean, I get that places like the Treasure make fat caps and keep us in bourbon, but what about the places like Murkwater or Tenpines? Why do you waste so much time on nothing?"
"It's not for nothing, Mac. This is not about birthdays, or even about the Minutemen, it's that you just don't understand. There are things that matter besides caps. People matter. It matters what kind of world we live in. If nothing else, it should matter to you because it matters to me."
"Yeah, I know, I'm a jerk and I only think about myself. I'm not like you. I don't trust people. I don't even like people. But you think Hancock is any better?" He scoffed. "He's probably skimming caps, scamming you and spending half his time high. Same way he runs Goodneighbor."
John grumbled in disappointment. "I thought you knew me better than that, MacCready. I spend all my time high."
Mac laughed dismissively. "You think you're a big hero for giving Daisy a shop and letting a few drifters crash in your attic?"
Many of those drifters were synths because John let the Railroad use the Memory Den as the hub of their liberation operation. The rest, they were the folks who fell through the Commonwealth's cracks. Goodneighbor was the one place that wouldn't ask too many questions, wouldn't judge them, and wouldn't expect too much in return. She reminded Mac of that fact.
"He took you in, protected you from the Gunners. Hell, he's the one who recommended I hire you in the first place, because you needed the caps. You think YOU'RE a big hero because you killed Kellogg for me? You did it because I hired you to do it and because I took out Barnes and Winlock for you. You never give anyone a single cap more than you think they earned. And in the Commonwealth, that's more noble than most, I'll give you that. But it's not how I want to live my life. It's not how …"
She almost said "John" but that might be too much for Mac to handle.
"It's not how Hancock wants to live either. He's here because he understands what I'm doing and he wants to help me do it."
"He's here because it's a damn brothel. He's probably fucked everyone, including the assaultron."
"At least he fucks." The minute she said it, she knew she shouldn't have. But she couldn't take it back.
"Am I s'posed to feel bad I didn't bang you on that satellite dish or dress up like Grognak or whatever crazy crap you wanted me to do…" His eyes widened with the horror of sudden realization. "Is that why you opened the Treasure? Are you banging Grognak?"
That wasn't the accusation she expected. Fiona shook her head, laughing. "I'm not banging Grognak."
Mac narrowed his eyes and slowly lifted one finger. He pointed at John. His voice was a whisper. "You're banging him , aren't you?"
Memories of the Blue Room filled her head and spilled out onto her face. She couldn't help it. This was why she didn't play poker.
"Yeah, of course you are, it's Hancock." Mac heaved a heavy sigh of resignation. "How long? A week? A month? Since before we got married?"
"A week, kid. Of course, I wished it happened ages ago, but…" John shrugged. "If wishes were fishes."
"Screw you. You could have had anyone in the wasteland, why did it have to be my wife?"
"I think you know why, or you wouldn't be clinging so goddamn hard to hope. But at the end of the day, it's up to her, MacCready, not up to you or me."
John was right. Mac still had an ember of hope in his eyes when he looked at her and she had to smother it, once and for all.
"You and me, Mac, we're done."
"Yeah, well, fine. I'm keeping Taffington, and the power armor, and Dogmeat, and all the caps in the safe, and the comic books."
"It's all yours."
"And this." John took a blue bottle cap from his pocket and held it out to him. Fiona had no idea what that meant but it meant something, she could see it on their faces. Something serious.
Mac looked at the cap, then at John. "I hate you."
"I know." John replied in a menacing voice that would've scared the living shit out of her, had it been aimed in her direction. As it was, it gave her an unsettling sort of shiver. "But if we end up with a bullet in our heads, we've got people who will hunt you down and make your death very slow and painful. You feel me?"
"Yeah." Mac snatched the bottlecap from John's hand. "Now we're even."
* * *
Cait waited near the rear of the pub, keeping her eyes on the patrons and her ears on the workshop. So far, she hadn't heard gunshots. Eventually, the three of them emerged, looking tired but unbruised and without a drop of blood on them.
How disappointing. 
Fiona took MacCready to the bar and set him up with a pint and a hot meal, while the Mayor lurked in the smoky shadows giving him the stinkeye. Then she approached Cait for a private chat.
"I've got a favor to ask."
"I'd give you the shirt off me back, but then everybody'd be looking at me tits. It's bad enough they can't keep their eyes off me arse."
"Great, I need you to take Mac home. Make sure he gets there and stays there and doesn't drink himself to death. I'll pay you twice what you're making here."
"Sounds like a sweet deal."
"Not really. It's combat pay. He's going to be angry and sad and talk a lot of … uh, shite… because I left him."
"So, are you and the Mayor more than business partners, now? What's that like?"
"Like being with anyone else, but I have to use more Rad-away and I don't get pubes stuck in the back of my throat. Look, promise me you'll keep a close eye on Mac. I don't want him drowning himself in the lake."
"So, instead of a bouncer, I'd be a bodyguard?"
"Do you mind?"
"Guarding his body? Not a bit."
"Good. Radio me if he leaves Taffington without you. Better yet, don't let him leave. I guess that makes you more like a jailer. But don't tell him that. I'll tell him I'm sending you to help out around the place, since I won't be living there any more."
"And if he needs consoling?"
"He's all yours, sister."
"Well, then, let me go and get me things."
She bounded off to her bunk, feeling like she'd fallen in shit and come out smelling like a rose.
END
Notes:
However they happen, break ups and divorces are some of the most traumatic events in people's lives. Emotions can easily run the gamut through rage, despair, jealousy, humor, and relief, even over the course of one argument. I've deliberately tried to avoid portraying anyone as The Good Guy or The Bad Guy in this situation. There's nothing wrong with Mac wanting someone to drink with him "until the stars get blurry" and enjoy a simple life. There's also nothing wrong with Fiona needing a higher purpose and some kink in her life. Sometimes two people just can't make each other happy.

And sometimes they do. Far as I'm concerned, Fiona and John, and Cait and MacCready, lived happily ever after.
~ J.L. Hilton