STELLARNET REBEL (January 2012) is about Genevieve O'Riordan, the only news blogger in humanity's most remote and dangerous space settlement. Asteria Colony is populated by criminals, refugees, obsessive online gamers, and an alien freedom-fighter named Duin. What begins with a blog post becomes a dangerous web of politics, prejudice and passion as Genny and Duin struggle to survive not only a war but the darker side of humanity. EPIC Award finalist and nominated for LR Cafe's best sci-fi book of the year. BUY * READ MORE
STELLARNET PRINCE (November 2012) The continuing adventures of Genevieve O'Riordan, interstellar blogger, Net celebrity and sometimes "unnatural whore." Duin discovers the real reason behind the Tikati invasion, but he can't tell anyone, not even those he loves most. Belloc's true identity threatens to fracture the Freedom Council and propel Glin into civil war. BUY * READ MORE
WREN & WOOD

My fantasy novelette "Wren & Wood: Oak Moon" won the 2009 Andrew Britton Short Story Competition held in memory of the New York Times best-selling author. For more information, an excerpt, or to download the entire story, click here.
1000 STEAMPUNK CREATIONS
One of my pieces is included in the book 1000 Steampunk Creations: Neo-Victorian Fashion, Gear, and Art. With 1,000 color photographs, it's a showcase of jewelry, fashion, accessories, headgear, artwork, home decorations and curious contraptions. I'm so excited and honored to be included in the company of these amazing artists. 1000 Steampunk Creations is an incredible testament to the beauty, marvel and creativity of the steampunk style.
STEAMPUNK STYLE JEWELRY
Three of my original designs are featured in the book Steampunk Style Jewelry edited by Jean Campbell and published by Creative Publishing international, released in December 2009. This title is available through Amazon, Barnes & Noble, Ornamentea, Michael's, and other book and craft stores worldwide.
CHILDREN'S BOOK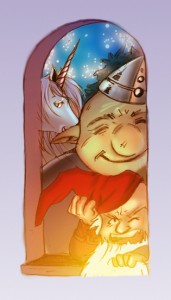 Princess Amber's Bed is a story I made up for my daughter. When she was little, she always wanted to sleep anywhere but in her own bed.
She liked the story so much, I turned it into a free online children's book, created in collaboration with artist Patricia Leonardo. I also wanted to use it as an opportunity to raise awareness of the non-profit organization Kids Need to Read, founded by Nathan Fillion and PJ Haarsma, which provides books to underfunded schools, libraries, and literacy programs across the United States, especially those serving disadvantaged children.
FIREFLY FAN FICTION SCRIPTS
For fun, several years ago, I wrote four episodes of a Firefly Season 2. These are in screenplay format, with appropriate teasers, commercial breaks, etc. I tried to keep them as true to Firefly and Serenity as possible. They pick up pretty much right where the movie leaves off. I don't need to be reminded that I'm no Joss Whedon! But they seem to be enjoyable to those who are into this sort of thing. And since there's no actual season two in sight…
EPISODE ONE: A Dream Come True