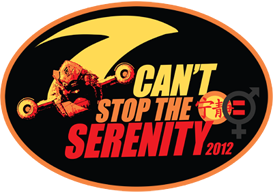 I am a global sponsor of Can't Stop the Serenity 2012. This is an annual event where Browncoats — fans of Firefly — coordinate special screenings of the movie Serenity to raise money for Equality Now, an organization that works for the rights of women and girls around the world. Some screenings also raise money for Kids Need to Read and other charities.
As a global sponsor, I've arranged with my publisher Carina Press to donate digital downloads of my book Stellarnet Rebel and other swag.
If you're interested in attending a screening near you, check out this list of official screenings.
In 2006, I organized Raleigh's first CSTS event. Since then, I've coordinated and emceed our local screenings, which included a raffle, costume contest and other shiny activities, along with the movie. We have raised a combined total of more than $21,500 for Equality Now and $2,800 for Kids Need to Read.
Worldwide, FIREFLY and SERENITY fans have raised a total of more than $600,000 for charity.
This year, I've turned organizational duties over to others, but I spent the weekend painting a parasol like the one carried by Kaylee in the Firefly pilot episode, which will be donated to Raleigh's CSTS raffle.
Stay shiny!
~ J.L. Hilton
Connect, support, comment or contact the author here