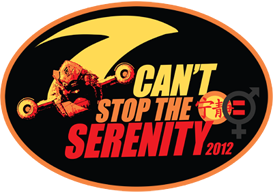 I am a global sponsor of the 2012 Can't Stop the Serenity. This is an annual summertime event where Browncoats — fans of Joss Whedon's Firefly — coordinate special screenings of the movie Serenity to raise money for Equality Now, an organization that works for the rights of women and girls around the world. Some screenings also raise money for Kids Need to Read and other charities.
As a global sponsor, I've arranged with my publisher Carina Press to donate digital downloads of my book Stellarnet Rebel, plus some cool stickers and nagyx necklaces.
If you're interested in attending a screening near you, check out this list of official screenings.
In 2006, I organized Raleigh's first CSTS event. Since then, I've coordinated and emceed our local screenings, which included a raffle, costume contest and other shiny activities, along with the movie. We have raised a combined total of more than $21,500 for Equality Now and $2,800 for Kids Need to Read.
Worldwide, FIREFLY and SERENITY fans have raised a total of more than $600,000 for charity.
This year, I've turned organizational duties over to others, but I spent the weekend painting parasols like the one carried by Kaylee in the Firefly pilot episode. One parasol will go to my daughter, and the other will be donated to Raleigh's CSTS raffle. I would paint more, but I'm super busy working on my next book, Stellarnet Prince, coming out in November, and getting ready for ConCarolinas and ConTemporal, both coming up in June.
For my local event, I'll also donate some of my handmade jewelry. I just haven't decided what pretty trinket it will be this year. And I donated several items I purchased for the raffle, including a Browncoat cloth shopping bag, buddha candle holder, Firefly trading cards, and a teddy bear patch. Coming up with interesting raffle prizes is something I've done for so long, even though I'm not in charge of the raffle this year, I'm always on the lookout for amazing goodies. It's like doing holiday or birthday shopping all year 'round. I love it.
Stay shiny!
– J.L. Hilton