I know there's a load of crappy reviews and it's only earned about $12 million in theaters. I still love the characters, the animation, and the music. I love the unconventional storyline (says the author who won the 2013 Galaxy Award for Best Non-Traditional Romance). I would watch this 100 more times before I ever watched Guardians of the Galaxy again, and I know that makes me the weird one. I'm OK with that.
There's a short list of movies I wanted to sit down and watch again immediately after just watching them, and that includes such oddities as Mystery Men, Knights of Badassdom, V for Vendetta and Repo! The Genetic Opera. And now, Strange Magic.
I haven't been able to stop thinking about this film, and that rarely happens to me. I'm going to lose my fucking mind waiting for it to come out on DVD in May. Meanwhile, I'm writing this blog post, and I've got the soundtrack going on my mp3 player right now.
Here's how it all went down.
I'd had a hankering for fish and chips all month. Don't know why, just one of those things. Usually the monkey on my back demands Hostess cherry pies, but I'm trying to cut back on sugar so maybe the monkey changed his attention-seeking tactics. The monkey is a crafty little turd.
My favorite place for fish and chips is Raleighwood Cinema Grill. Four big, flaky, battered pieces of fish arrive in a plastic basket with thick, perfectly-cooked steak fries and a scoop of cole slaw. If there's anywhere else in Raleigh, North Carolina, with better fish and chips, I haven't found it (but I'm open to suggestions, so long as they don't involve tilapia — contact me).
Raleighwood is a movie theater as well as a restaurant, with tables and comfy padded swivel chairs instead of stadium seats. I didn't care what movie I watched, I just wanted lunch, so I checked the 12:30 matinee schedule and found Strange Magic.
I knew nothing about the film. The movie poster featured an assortment of computer-animated goblin critters who looked like something out of Spiderwick or Shrek.
I read the synopsis:
From the Magic Kingdom of Walt Disney and Award Winning producer George Lucas comes a fun animated madcap fairy tale musical adventure inspired by "A Midsummer Night's Dream." Popular songs from the past six decades help tell the tale of a colorful cast of goblins, elves, fairies and imps, and their hilarious misadventures sparked by the battle over a powerful potion.
Use of the term "madcap" — as with similar words "zany," "quirky" or "whimsical" — is usually a red flag.
George Lucas produced another musical fairy tale and favorite movie of mine — Labyrinth — but I'd never forgiven him for cocking up Star Wars. I wanted to beat him with every discounted Darth Maul bed slipper I'd ever seen at K-Mart, so his involvement wasn't a selling point.
And a Disney production where no one bothered to compose an original song for its soundtrack? Even Galavant got better treatment than that.
"Dad says it's going to suck," my 10-year-old told me. "He watched the trailer."
"I don't care, I'm just going for the fish and chips."
One of the fun things about homeschooling is that if you feel like taking your kids out to the movies for lunch on a weekday, you can. So we headed over to Raleighwood, the 10-year-old eager for an ice cream sundae and the 14-year-old happy for any excuse to ignore chemistry and geometry for a little while.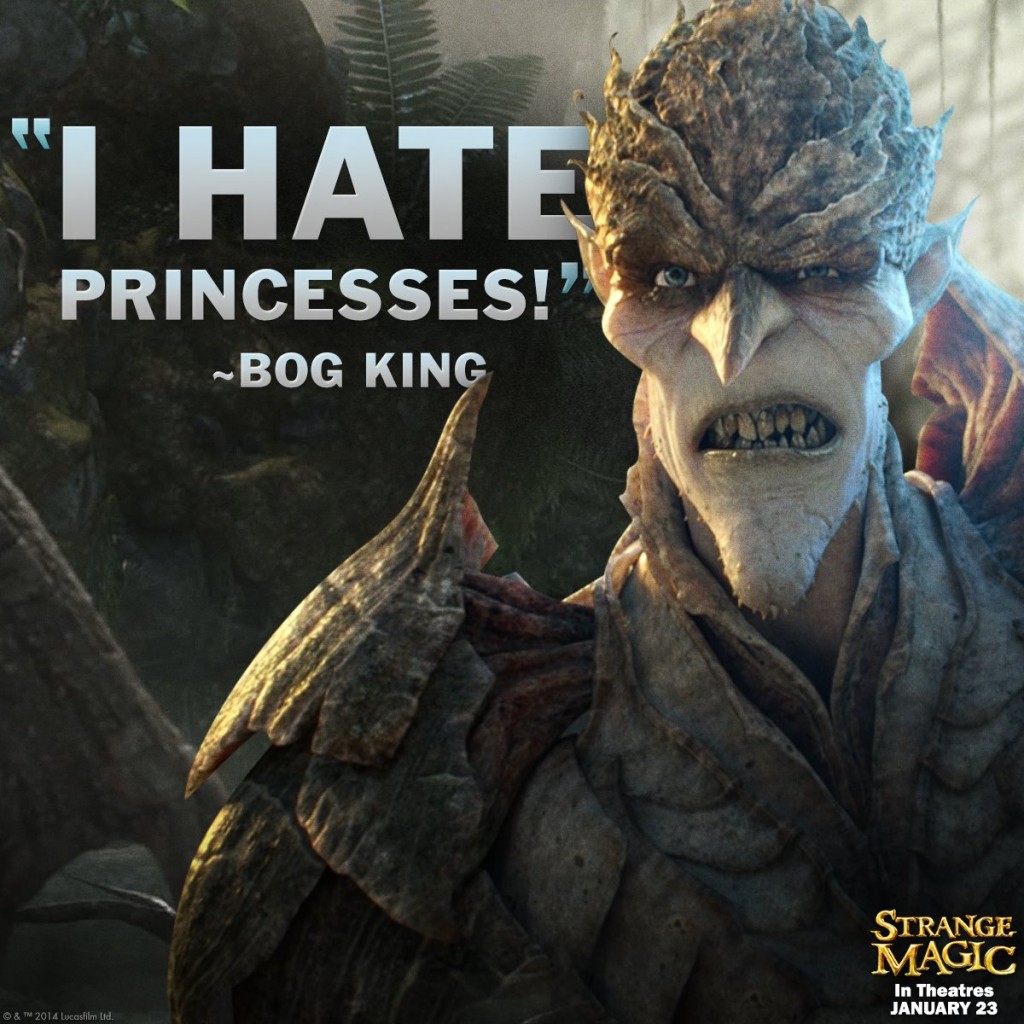 Strange Magic begins the way so many children's movies begin, with a happy, singing princess in an idyllic forest surrounded by magical things. Winged fairy Marianne is engaged to a handsome squirrel-riding fairy gentleman. Her loving sister Dawn assists with the wedding plans. All is right with the world.
My snarky teen offspring gave me the stink eye.
"I don't care how much it sucks," I whispered to her. "I'm just here for the fish and chips."
Before she can achieve wedded bliss, Marianne's heart is broken and she becomes a cynical, sassy, sword-wielding goth fairy who don't need no man to help her run her kingdom.
Her former fiancé, the squirrel jockey, attempts to lure her back into his arms — not for love, but because he wants the power such a relationship would bring. She gives him a big musical "fuck off" with Kelly Clarkson's 2012 hit "Stronger."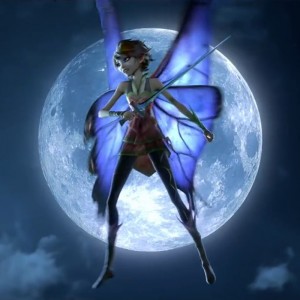 Much of the story of Strange Magic is told through pop songs spanning the past 50+ years. Marianne opens with Elvis Presley's "Can't Help Falling In Love" (1961), and her disappointment is expressed via Burt Bacharach's "I'll Never Fall in Love Again" (1968). The Bog King introduces himself with another Elvis song, "Trouble" (1958). He later sings "Mistreated," a 1974 song by Deep Purple.
I got sucked in and sang along quietly to myself in the theater. My 14-year-old noticed my lips moving and whispered, "How do you know all the words of a movie we've never seen?" She's used to me singing like Miranda around the house, but suddenly I seemed to have music telepathy.
"They're using old songs for the soundtrack," I told her, feeling very old.
It reminded me a bit of the way Moulin Rouge! used a contemporary soundtrack to tell its story. Which, turns out, wasn't far wrong, since Marius De Vries was the music director for both Strange Magic and the 2001 film with Nicole Kidman and Ewan McGregor.
* * *
* * * SPOILER ALERT * * *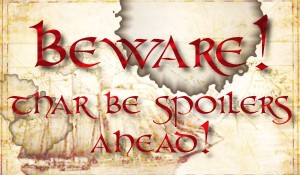 DON'T READ FURTHER UNLESS YOU'VE SEEN THE MOVIE OR DON'T CARE
* * * SPOILER ALERT * * *
* * *

When Marianne battled Bog, I loved how they crossed sword and staff while singing Heart's "Straight On" from 1978. And as their relationship transformed from contentious to romantic, they sang the best version of "Strange Magic" I've ever heard — all due respect to the original by ELO, a band I've loved since roller skating to their Xanadu soundtrack in my driveway in 1980.
Yes, this is a movie where the heroine and the villain actually FALL. IN. LOVE. You have no idea how many times I'd wished that would happen, but of course it never does. Perhaps because the villain wears a mask and hides out in a sewer (Phantom of the Opera), or because he's a powerful wizard and she's a young girl (Labyrinth), or because for some inexplicable reason she prefers the stupid hero over his broody nemesis in black leather and guy liner (BBC's Robin Hood).
A critic dude at the New York Post called Strange Magic "jaw-droppingly terrible." He obviously doesn't have a deep, heart-wrenching affinity for Beauty & the Beast stories.
Related reading: "Redefining sexy with dwarves, demons and aliens" by J.L. Hilton
This is the version I've always wished for — where the beast does not transform in the end, but remains his hot, monstrous self and is loved for it, not in spite of it. I cheered when Marianne declared her love for Bog with the song "Wild Thing."
This is the movie I'd waited for all of my life.
I also loved Strange Magic because the lead characters were equals. Marianne and Bog were both strong, intelligent, flawed, and possessing the same level of power, being royalty of their respective kingdoms. This was not a story about a peasant girl winning a prince with her good looks, or a hero rescuing a helpless princess from a tower.
Both of my girls liked it, too. Even the teenager.
Alan Cumming, who voiced the Bog King, said in an interview, "I like the message that weird people will find each other. And I do really like that in both these big films (Frozen and Strange Magic), the handsome princes are total dicks."
"The story is about the difference between infatuation and real love," said George Lucas in a recent interview. "Real love is on the inside, with someone you have common ground with. You share the same values, you share the same interests, you share the same humor — things that will last you for the rest of your lives."
Thank you, George. I might almost forgive you for Jar Jar Binks. Almost.
~ J.L. Hilton
Connect, support, comment or contact the author here 
STRANGE MAGIC
Rated PG
Story by George Lucas
Directed by Gary Rydstrom
Starring:
Alan Cumming as Bog King
Evan Rachel Wood as Marianne
Kristin Chenoweth as Sugar Plum Fairy
Maya Rudolph as Griselda, The Bog King's mother
Alfred Molina as the Fairy King, Marianne and Dawn's father
Elijah Kelley as Sunny
Meredith Anne Bull as Dawn, Marianne's sister
Sam Palladio as Roland
Distributed by Walt Disney Studios Motion Pictures
Release date: January 23, 2015
Running time: 99 minutes
DVD release date: May 19, 2015