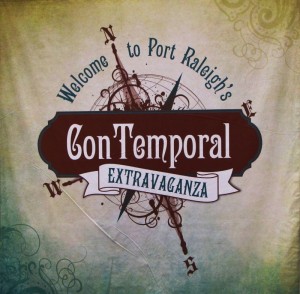 Last weekend, I joined the Temporal Engineering Alliance (TEA) as Port Raleigh's aide-de-aether, otherwise known as social media assistant for ConTemporal.
In this industrious capacity, I met distinguished inventors, steamstresses, storytellers, troll hunters, melodians, haberdashers, automatons, armorers, leatherworkers, ladies and gentlemen at the third annual convergence of time streams and intersecting realities in Raleigh, North Carolina.
Some illustrative tintypes for your perusal:
Photos by J.L. Hilton
Color images and additional pictures here and here
Links:
The Blonde Swan
Bone Shaker Boxes
Brett King Steampunk
Brute Force Studios
GearHearts Magazine
The Gin Rebellion
Hatton Cross Steampunk
Koala Bags
Lady Heathers Fashions
Sleepy Hollow
Stephen Lee Chapman
The Victorian Magpie

Cogs & Captains at ConTemporal 2013
Characters & Curiosities at ConTemporal 2012
Comments are disabled. If you'd like to contact the author, see this page.