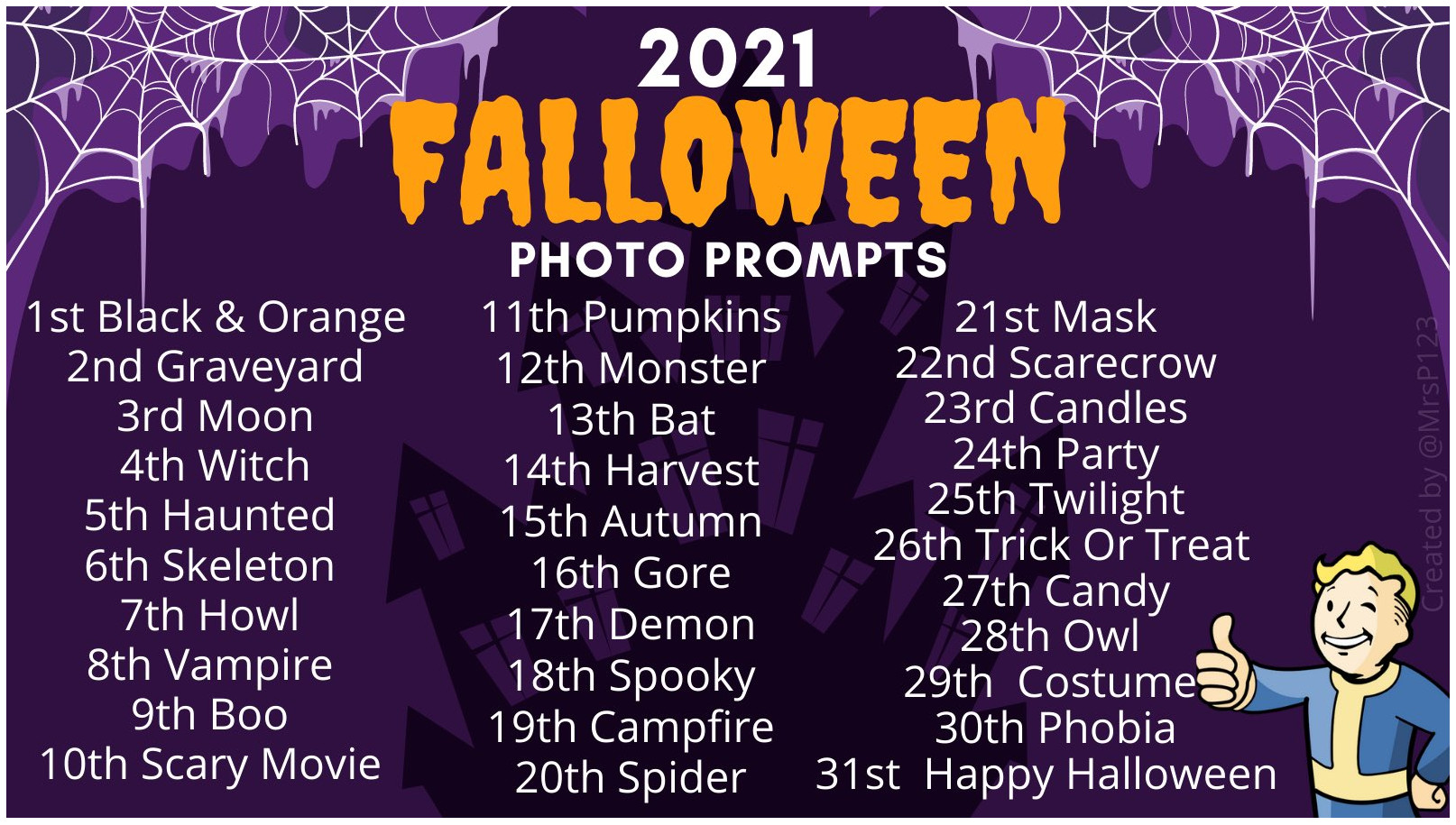 FALLOUT (video game franchise) + HALLOWEEN (holiday) = "FALLOWEEN"
The FALLOWEEN photo challenge was issued by Mrs P on Twitter. There were spooky prompts for each day of October, inspiring players to take screenshots in Fallout 3, Fallout: New Vegas, Fallout 4, Fallout Shelter and Fallout 76.
Fall is my favorite time of the year and Halloween my favorite festival, so I set myself the goal of posting at least one picture for every day of the month.
Here's what I came up with… (click on the links to see more photos)
OCT 1: Black & Orange – Misty morning, power armor, Shroud Manor
OCT 2: Graveyard – Cat cemetery & Gage's tomb
OCT 3: Moon – Museum of Freedom, Nuka Girl & Virgo II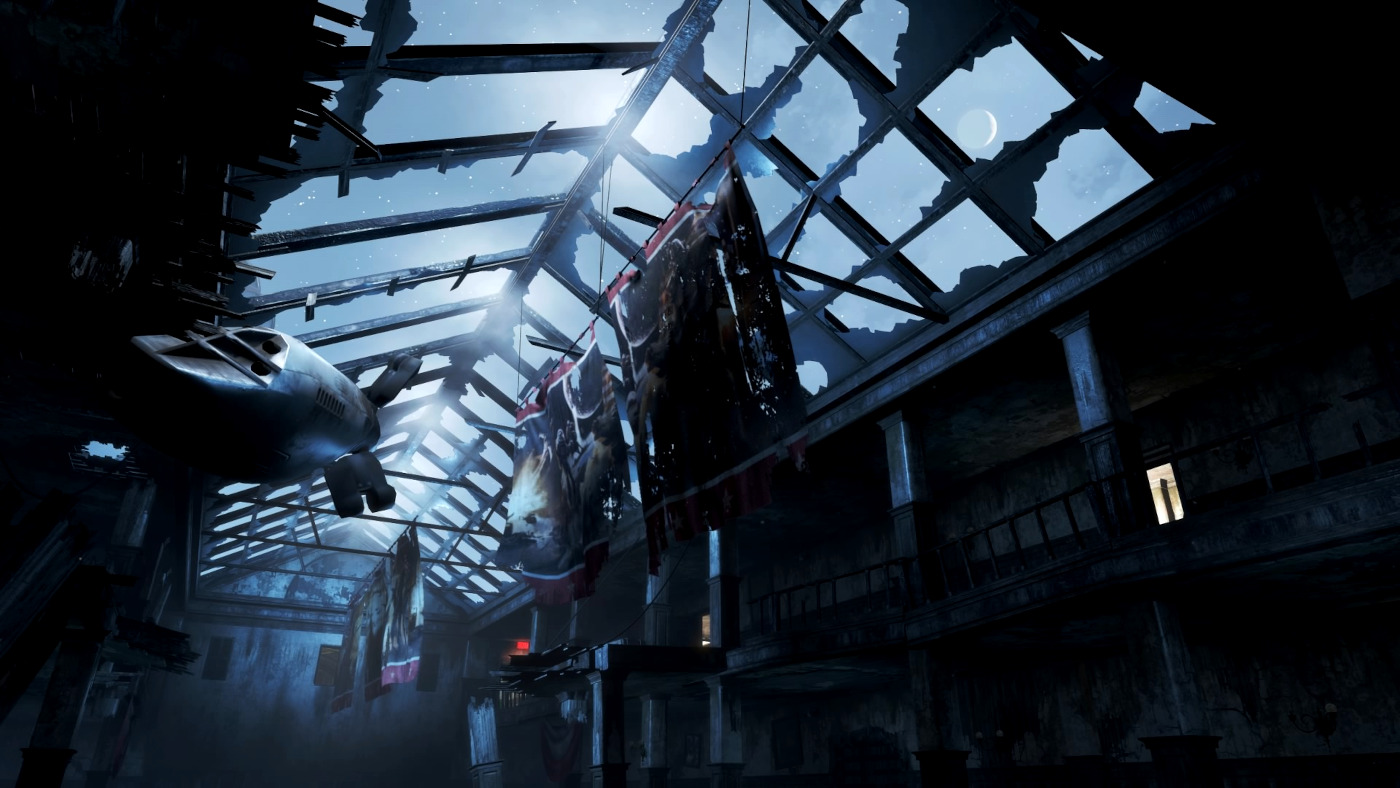 OCT 4: Witch – Museum of Witchcraft in Salem
OCT 5: Haunted – Mysterious figure in the woods
OCT 6: Skeleton – Skelly baby, Old North Church crypt, Shem Drowne's grave
OCT 7: Howl – Three Dog (Fallout Shelter)
OCT 8: Vampire – Vance and the Family
OCT 9: Boo – Contacting the spirits in Hangman's Alley
OCT 10: Scary movie – Night of the Fish Men's Revenge in Far Harbor
OCT 11: Pumpkins – Roadside produce stand
OCT 12: Monster – The Red Death
OCT 13: Bat – Fiona with a black baseball bat
OCT 14: Harvest – Abernathy Farm
OCT 15: Autumn – Thanksgiving feast
OCT 16: Gore – Fizztop Mountain in Nuka World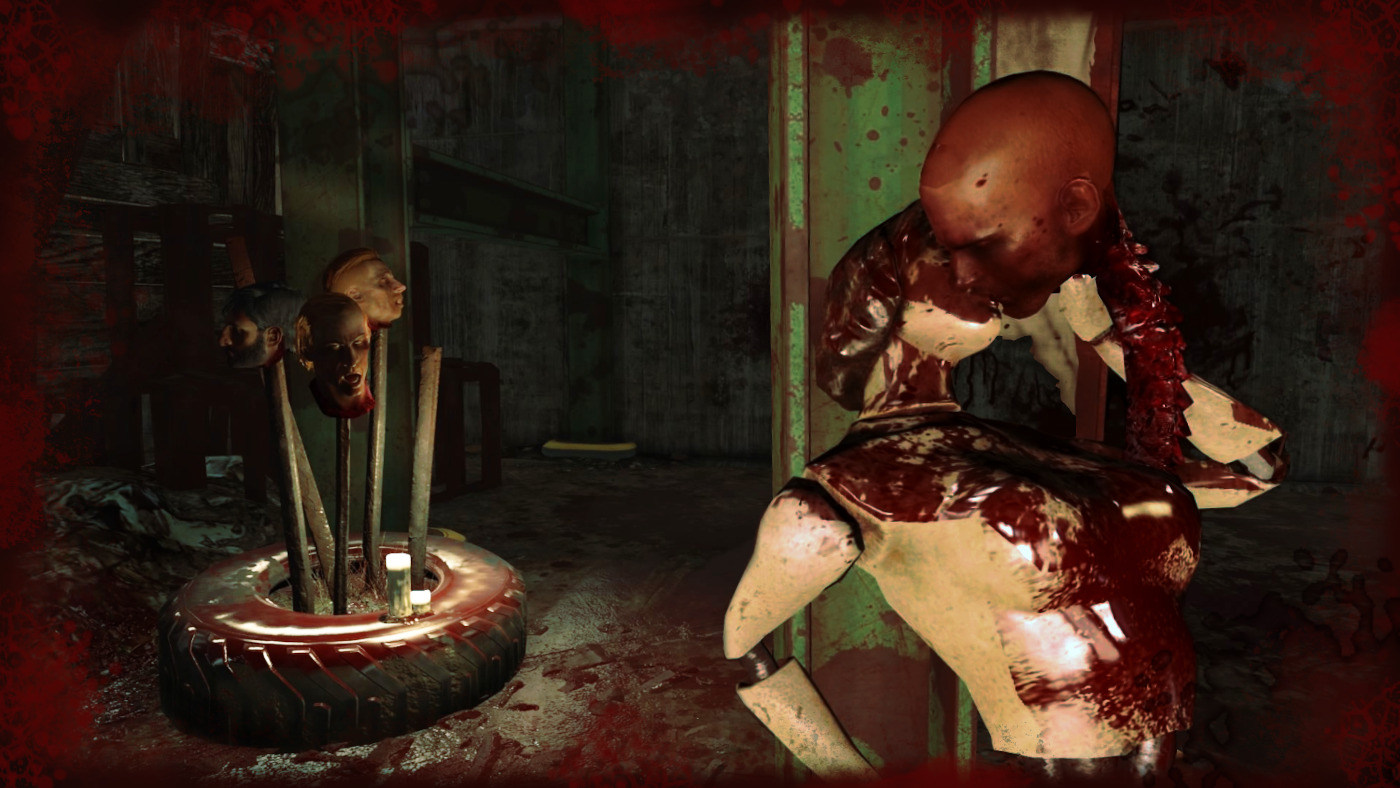 OCT 17: Demon – Evil wakes in the depths of Dunwich Borers
OCT 18: Spooky – That time Hancock vanished
OCT 19: Campfire – Raider altar, Hancock, Cricket
OCT 20: Spider – Since there aren't any in-game spiders and I don't use mods, I made a Lord of the Rings / Fallout crossover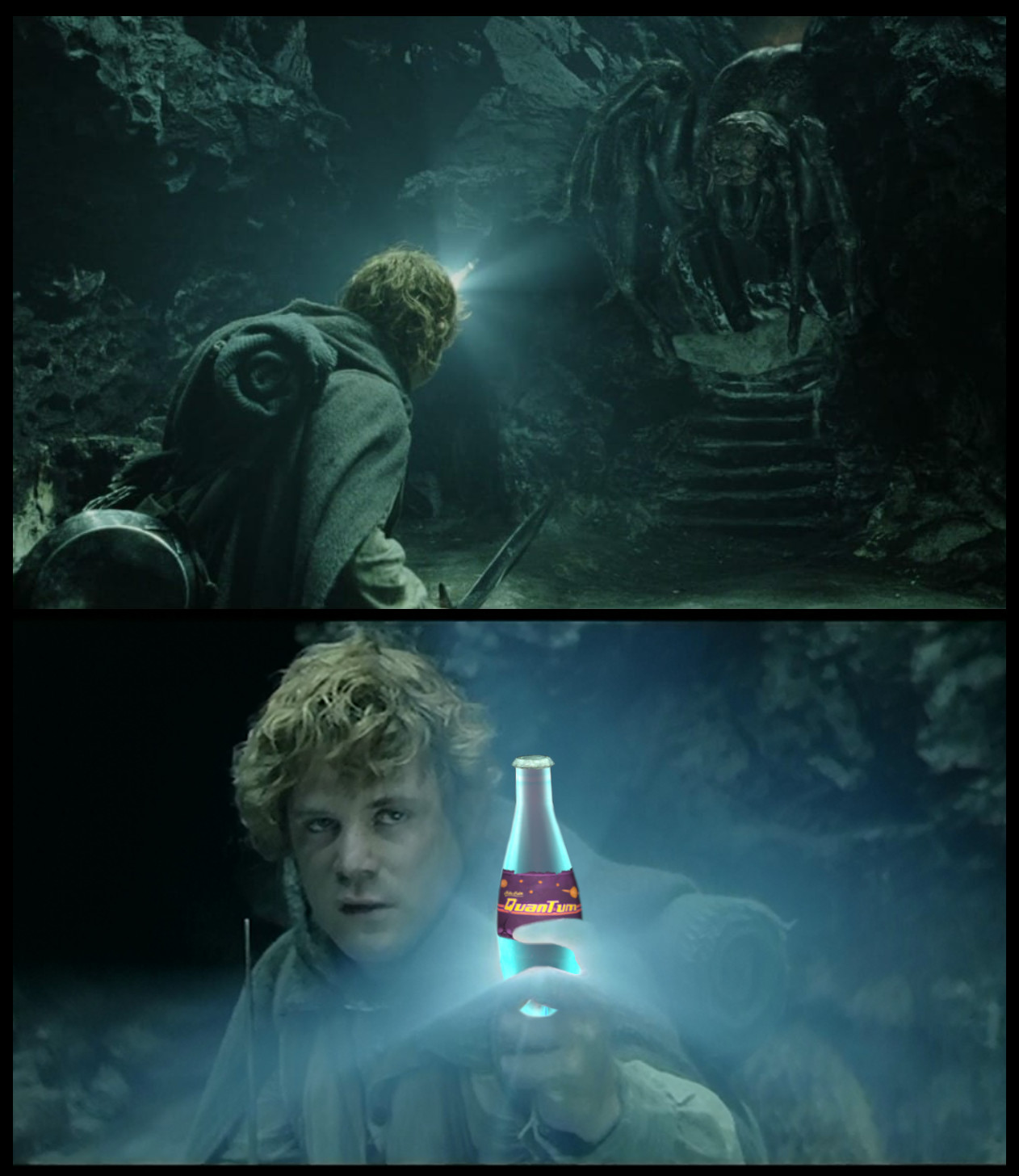 OCT 21: Mask – Ghoul mask from Fallout 3
OCT 22: Scarecrow – County Crossing corn field
OCT 23: Candles – Children of Atom, Sanctuary Hills
OCT 24: Party – Halloween in Fallout Shelter
OCT 25: Twilight – Kiddie Kingdom in Nuka World
OCT 26: Trick or Treat – Hancock and Fiona hand out candy at Kingsport Lighthouse
OCT 27: Candy – Careful, too much can cause tooth decay!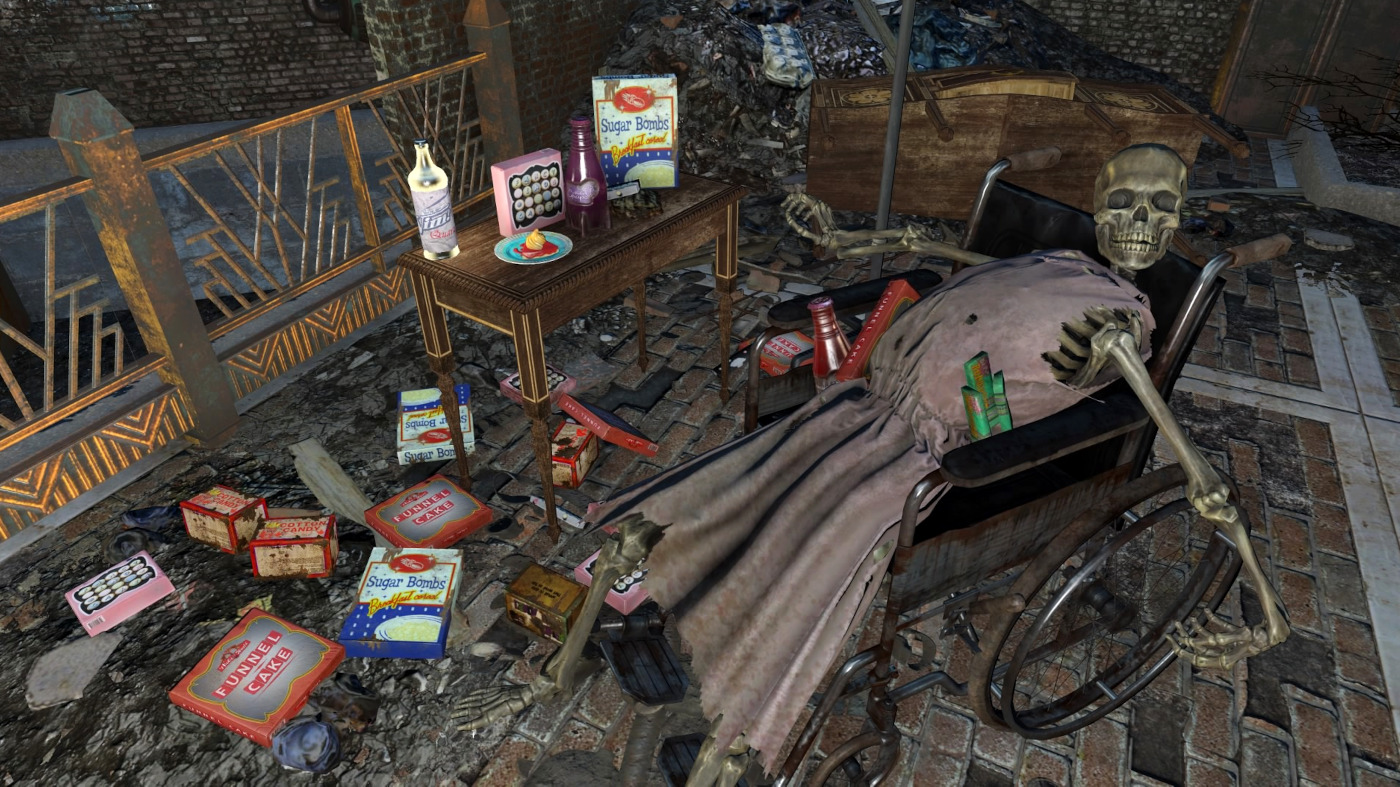 OCT 28: Owl – No owls in the Fallout games I play so here's a "seaghoul"
OCT 29: Costume – Fiona and Hancock as Sally and Jack Skellington
OCT 30: Phobia – Fear of blood, fear of the dark, fear of water
OCT 31: Happy Halloween
~ J.L. Hilton
Connect, support, comment or contact the author here