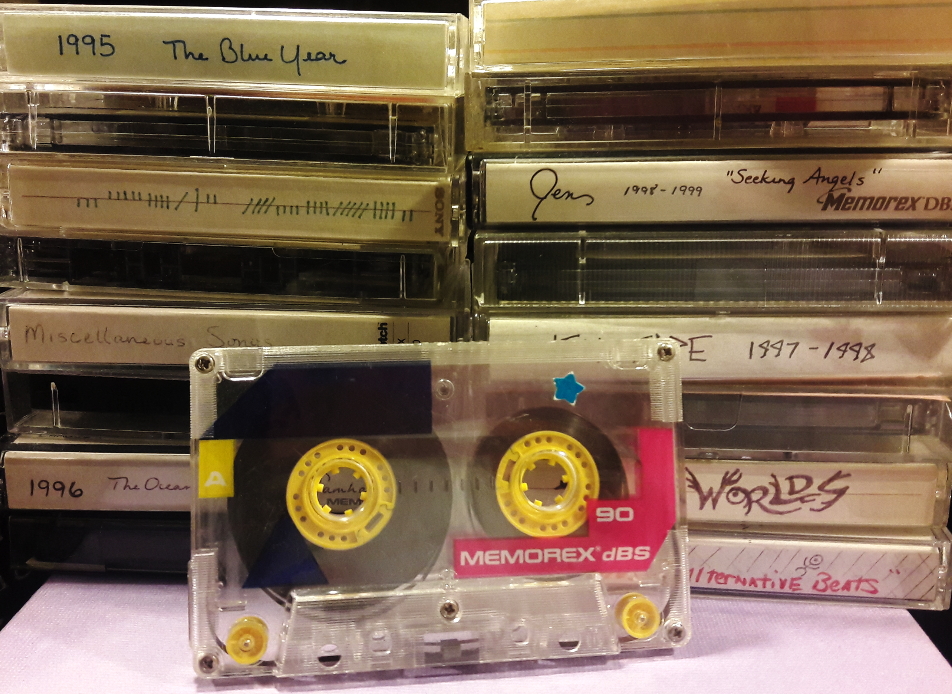 I found a box of tapes I made in the 80s and 90s. This one is labeled "Mike's tape" and it marks the point my life where I'd broken up with Ron and started dating a guy named Mike. In 1993, I was still living in Los Angeles and working my way through college.
Looking back, I think Ron only dated me to piss off his mother. He didn't seem to like me, thought psychology was a stupid major, told me I dressed trashy, and even refused to kiss me. He didn't like me giving food to homeless people and he talked me out of joining the college newspaper. I'd already written for a few magazines by 1993 and after college I ended up working as a newspaper reporter, photographer and editor from 1995-2000, anyway.
Once, when we were out in public together, an older woman overheard him talking to me and told me I should dump him because he was abusive. I didn't think he was as bad as my dad, but I didn't really know what a healthy relationship was supposed to be like.
I met Mike in a strange, kismet kind of way. I saw him at the mall while doing some holiday shopping and thought he was really handsome. Then, the next day, he showed up at the photo lab where I worked and dropped off some film to be developed. We struck up a conversation, he returned to pick up his photos and we started going out.
Mike was 30 and I was 21. He was a wonderful photographer troubled by an unhappy engineering career he felt pressured into by his parents, intelligent, well-traveled, and unlike Ron he wanted to kiss me. I was smitten.
Disney's Aladdin came out in 1992 and offered a new song perfect for this mixtape. "I can show you the world, shining, shimmering, splendid…" 
Side A
I've got to stop and talk a minute about David Wilcox. Most folks haven't heard of him. He's a folk musician who writes beautiful, meaningful songs about the human condition, and I highly recommend checking out more of his music on YouTube. He's still out there doing his thing.
"Language of the Heart" was my first exposure to his music, performed at the Jolly Roger bar by that band Flyer I mentioned back on Mixtape #6.
The lyrics perfectly described my relationship with Mike. I was "smitten," as I said, but he was not. He was not Aladdin and his magic carpet adventure didn't include me.
We made our warm bed out of blankets in the meadow way up high
You took off your dress in the moonlight, to sleep beneath the sky
Your touch was a warm summer ocean
Your kiss made the whole mountain fly
And you looked deep with in me and smiled
At the tears in my eyes
(Chorus) You can say that you always were honest 
And your words were clear from the start 
But its more than just words that got spoken 
There was language of the heart 
I won't keep on calling your number if you never have the time 
I don't want to claim you or blame you, but you're always on my mind 
You had no idea I would love you, it comes as a total surprise 
And you shake your head slowly and smile at the tears in my eyes 
(Chorus) 
Your eyes like an ocean of clear sunlit green 
My eyes with the salt water 
Wash me clean….again 
And just imagine you whispered a secret that could take away my blues 
And you let me believe it to please me, though it just wasn't true 
You just meant to share with me pleasure 
And you're gifted at what you do 
But you're speaking an unspoken language 
I thought that you knew 
It's one that we all learn by heart 
And our hearts think its true 
(Chorus)
Side B
Country music entered my life right about here. With the popularity of crossover country artists like Garth Brooks, Faith Hill, Reba McEntire and others, my friends and I started hanging out in country-western and biker bars, line dancing, two-stepping and ten-stepping on Friday and Saturday nights.
~ J.L. Hilton
Connect, support, comment or contact the author here