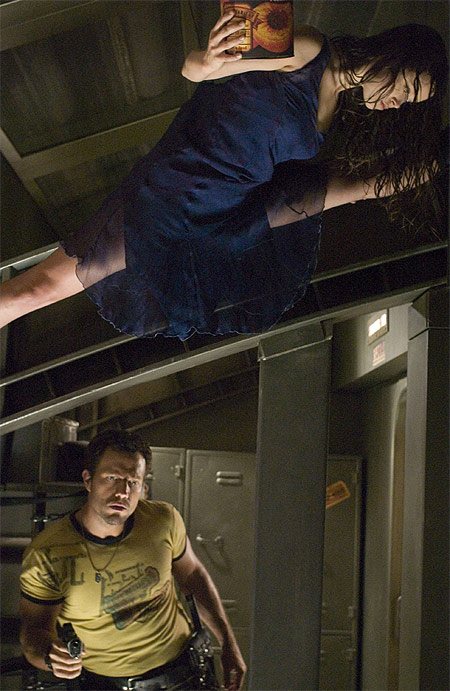 * * * CSTS AUCTION LINK * * *
For a decade, I've owned a piece of Serenity: The actual St. Christopher medal worn by Adam Baldwin as Jayne Cobb in the 2005 motion picture. He can be seen wearing it when he tries to take River for a "nice shuttle ride" and she knocks him out with a can of peaches.
I've had a lifelong interest in jewelry and worked as a professional jewelry designer for more than half my life. I always notice jewelry in movies and TV shows, amused by what those little embellishments tell us about the character, story and plot.
In Jayne's case, St. Christopher is appropriate, not only because he's the patron saint and protector of travelers — and the crew of Serenity could certainly use all the protection they can get — but because the saint started out a tall, fierce mercenary who ended up serving God by carrying people across a dangerous river. How about trying to save them from a dangerous River (Tam)?
In December 2005, Stephen Lane from the Prop Store of London posted in a Browncoat fan forum that he would be obtaining several props from Serenity. I asked him about the necklace, which he reserved for me. I bought it from him in March 2006. Prior to that, it was displayed at a Universal Studios theme park.
I framed the necklace in a shadow box with the certificate of authenticity and a replica of one of Jayne's shirts from the movie. Over the years, I displayed it at my local Can't Stop the Serenity events for other fans to enjoy.
CSTS is a fan-run project of worldwide annual screenings of Joss Whedon's Serenity to raise money and awareness for Equality Now, an organization dedicated to the protection of women and girls around the world. They deal with issues such as rape, child marriage, sex trafficking, and FGM.
Since 2006, Browncoats have raised more than $1,000,000.00 for Equality Now and for other charities, including Kids Need to Read.
I coordinated the 2006, 2007 and 2008 CSTS screenings in my city — complete with costume contests, raffles, trivia contests and shooting galleries — then went on to be a global sponsor while continuing to assist my local CSTS committee.
This year, when the global steering committee asked for donations for their national auction, I knew it was time for Jayne's necklace to have a new home and to do some good on the way.
So, I donated the necklace, shadow box, certificate of authenticity and all, to CSTS and the California Browncoats who are running the auction. It's currently on eBay and 100% of the sale will go to Equality Now.
You can see the St. Christopher auction here. It ends Nov. 15.
See the entire CSTS auction here.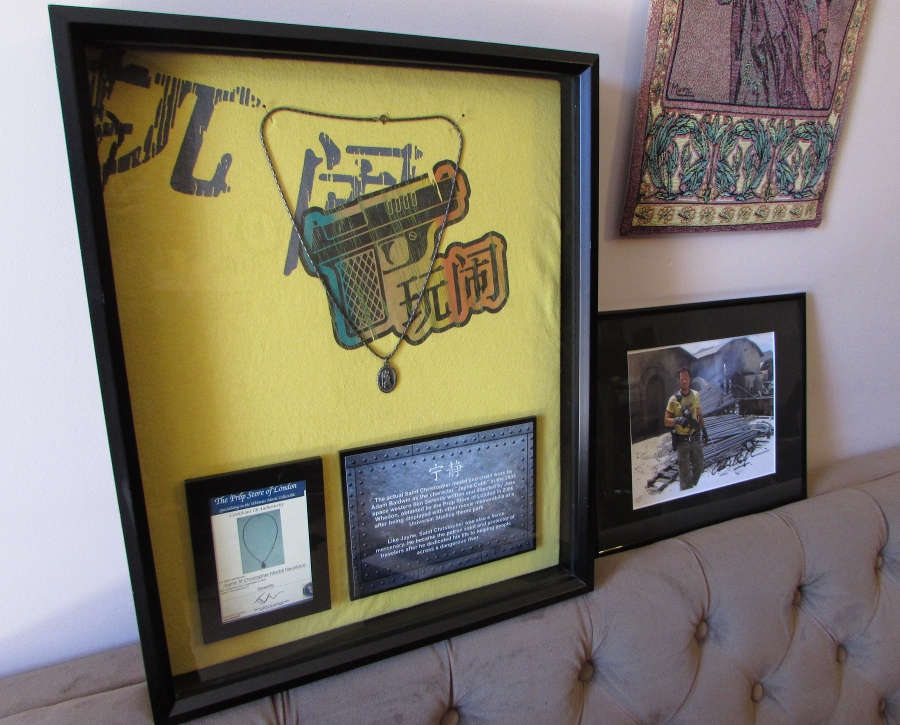 For the cosplayers and Browncoats who can't afford the original, I've found a similar medal at CatholicShop.com. The original medal was worn on a 24-inch Boston link chain.
~ J.L. Hilton
Connect, support, comment or contact the author here