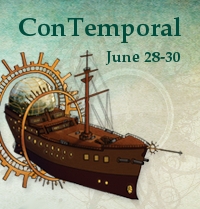 Fri 5 pm – Is There Something in the Water? (panelist) North Carolina, and especially the Triangle, seems to produce a high number of science fiction and fantasy writers. What 's special about this area that allows this speculative fiction community to thrive?
Fri 6pm – Nostalgia for the Future (panelist) – Why do the SF visions from past eras continue to hold such power on our imagination?
Sat 11 am – Podcasting Workshop (moderator) – Producing a podcast might be simple, but learning the tips and tricks of creating one that people will actually enjoy listening to might be more difficult. We'll consider questions such as: What makes a good podcast? What's the best format for your show? What equipment do you need? What are the practicalities of producing your show?
Sat 3 pm – Costuming on a Budget (moderator) – Cost is the most common obstacle for aspiring steampunks and cosplayers of all types. But you don't have to break the bank to have a great costume – sometimes all it takes is some creativity. I've heard that this will include costuming artists from Ribbons and Rivets but I'm not sure who else.
Hope to see you there!
~ J.L. Hilton
Connect, support, comment or contact the author here