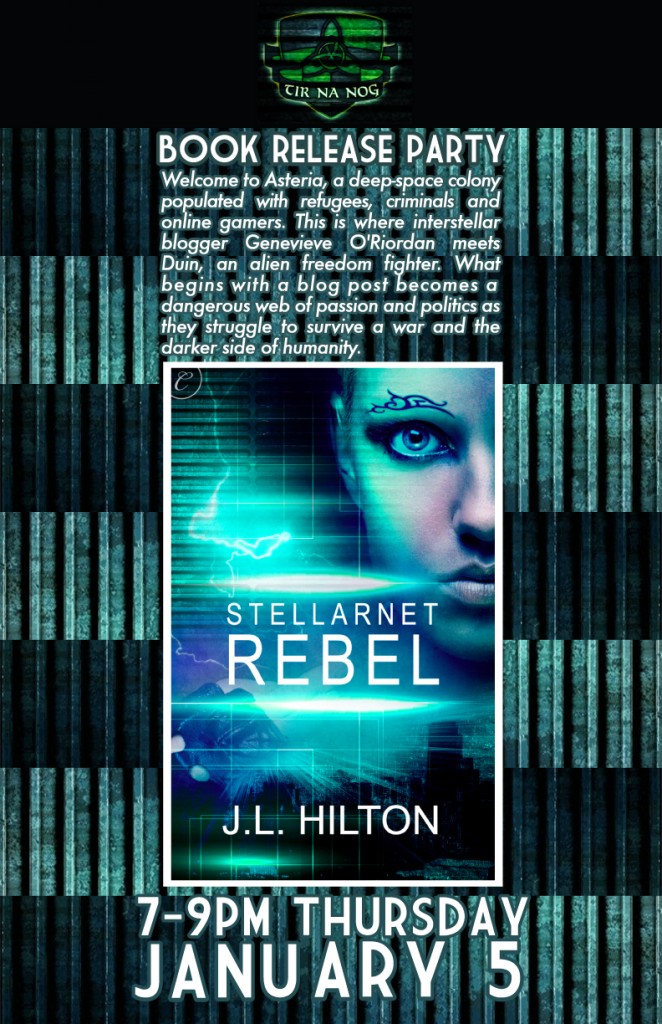 We held a STELLARNET REBEL release party January 5 at Tir na nOg Irish Pub, the inspiration for Aileen's Pub in my novel. Kilcarragh performed some of the traditional Irish songs mentioned in the book, and I gave away promotional swag — goodies from Carina Press, nagyx "soul stone" necklaces based on the book, stickers, chocolates, and autographed book cover cards. Annie Nice (the inspiration for Aileen herself) presented me with a really cool and terribly delicious cake.
Many of my friends and family were there, in person or in spirit, and even some people I didn't know! That's always nice. I hope they enjoyed my first time reading a part of my own book in public.
It wasn't easy. I've taught classes, given oral reports in school and presentations at work, led workshops, emceed events, acted, sang, chaired meetings, and even read other people's books during storytimes for children, without a bit of stage fright, but this was the most nerve-racking thing I've ever had to do.
Almost as difficult as the reading itself was deciding what part of the book to read. I considered several excerpts. Some exciting, some funny, some set in Aileen's Pub… but I couldn't make up my mind. Being a thriller, it seemed like too many of the excerpts contained spoilers or involved some piece of information the reader would need to know from a previous chapter. Or the excerpts involved too many expletives. Granted, it was an Irish pub, so what word hasn't been said there before? But it's also a restaurant, and I didn't want to offend any casual diners who might be within earshot.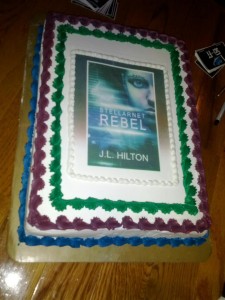 I settled on the prologue, which was sufficiently short, dramatic, intriguing, and self-contained. And no questionable language.
I'm happy to report that I survived, and so did the audience, best I could tell. I love listening to other people do readings. It thrills me to hear a story, whether it's from a published author or just a chatty friend (if you ever say to me, "I can't stand that person, because they go on and on…" I'll probably say, "Next time, send them my way…"). I'm a sucker for author readings. If I attend one, I'll buy the book. So, I know how important a reading can be. But I don't have to like doing my own. Do I?
I do, on the other hand, like cake.
Happy birthday, Andrew.
~ J. L. Hilton
Connect, support, comment or contact the author here