Please note that this information is based on my experiences in February 2013. Locations and products may have changed since then.
The alien heroes in my science fiction Stellarnet books may think chocolate tastes like an oozing fungus from the planet Glin, but my human heroine Genevieve O'Riordan and I both love it.
Saturday, I visited seven chocolate shops in Raleigh, North Carolina. I started with world-renowned chocolatiers Godiva and Lindt in the Crabtree Valley Mall, then went down Glenwood Avenue to Hereghty cafe, followed by stops at locally-owned bean-to-bar shops Videri and Escazu, then up Capital Boulevard to Rocky Mountain Chocolate Factory at Triangle Town Center, and ending at the Chocolate Boutique in Lafayette Village on Falls of Neuse Road.
The tour took me five hours from 11am to 4pm, which included driving in the snow, eating lunch, chatting with store owners and sales clerks, taking pictures, tasting samples, and making purchases at each stop. The tour might take others from 2 to 6 hours, depending on weather, traffic, being alone or with a group, and how much time spent at each location.
* * * UPDATE 3/4/13: The Rocky Mountain Chocolate Factory store in TTC has closed. There is one now open in Brier Creek. Click here for an updated map. * * *
I'm not going to rate nor rank the shops, and I can't possibly choose a favorite. Every single one has a character of its own, with unique offerings, friendly service and delicious treats. Here's more information, with the shops listed in the order visited. All photographs taken by J.L. Hilton (me).
* * *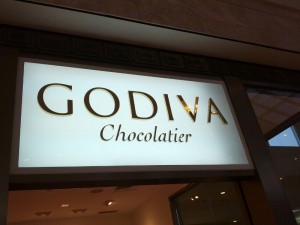 GODIVA
4325 Glenwood Ave, Raleigh, NC 919.781.0930
In 1926, Joseph Draps opened his first Godiva Chocolatier shop on a cobblestone street in Brussels, Belguim. The shop in Crabtree Valley Mall, near the food court, is one of now hundreds of Godiva boutiques around the world. It features seasonal goodies, bars, boxes and individual pieces, as well as shakes, fresh strawberries dipped in chocolate, fresh fruit kabobs drizzled in chocolate, chocolate-dipped macaroons, chocolate dessert cups with fresh berries and chocolate-covered Oreo cookies. (See boutique exclusive info here.) I joined the Godiva Chocolate Rewards Club.
* * *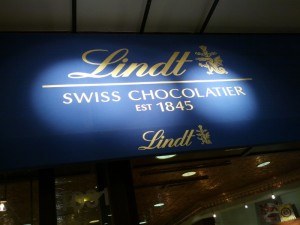 LINDT
4325 Glenwood Avenue, Raleigh, NC 919.786.6105
Lindt & Sprüngli is a a luxury Swiss chocolate and confectionery company that traces its origins back to 1845. Lindt chocolate is sold in more than 80 countries and manufactured bean to bar from eight production sites in Europe and the U.S. The Raleigh shop is just down the elevator from Godiva, and features bulk bins of Lindor truffles and European specialties, as well as bars, tins, boxes, chocolate teddy bears and seasonal gifts. I bought some of their HELLO bars in caramel brownie and strawberry cheesecake flavors, and I joined the Lindt Lovers Rewards program.
* * *
HEREGHTY HEAVENLY DELICIOUS
2603 Glenwood Avenue, Suite 123, Raleigh, NC 919.787.3995
This is not strictly a chocolate shop but a European-style cafe that offers cookies, pastries, coffee, wine, beer, sandwiches, salads, and so we stopped here for lunch. They do have chocolate truffles from time to time, but didn't have any on hand when I visited. I did, however, taste a "Liquid Brownie" chocolate, caramel and espresso drink. I can't wait to go back. The food, drink and pastries were all fantastic. The cafe is intimate, with limited space and small tables set up for couples, not really designed for larger groups. But they do off-site catering, corporate lunches, custom gift boxes, etc. Baked goods are produced in-house, except for their gluten-free offerings that are made off-premises.
Driving from Hereghty to Videri, we passed the Cupcake Shoppe and Turkish Delights, both on Glenwood Avenue. They would have been fun stops for chocolate-flavored goodies, too. But we were pressed for time as road conditions were expected to worsen by evening, and we were focused on chocolate makers — not chocolate bakers or other chocolate treats.
* * *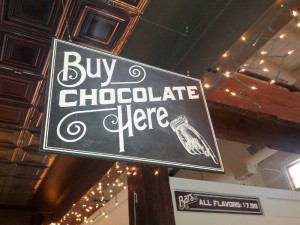 VIDERI CHOCOLATE FACTORY
327 West Davie Street, Downtown Raleigh, NC 919.755.5053
Videri has a Victorian style that made me feel as if I'd stepped back in time as soon as I entered the shop in Raleigh's warehouse district. The factory is designed to allow walkthrough, with most of the production occurring behind glass and beautiful signs describing each step of the process. I couldn't stop taking pictures. They offer large and small bars, seasonal treats, custom creations and space for private parties. Two weeks from now, they will also have a coffee bar.
"Videri Chocolate Factory was started by group of friendly folks who wanted to create wonderful chocolate, from the bean, everyday. We're a cozy downtown chocolate factory that scrupulously sources every ingredient to insure a high quality, socially responsible chocolate."
* * *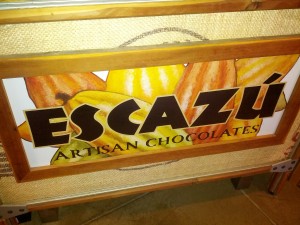 ESCAZU ARTISAN CHOCOLATES
936 N Blount Street, Raleigh, NC 919.832.3433
A dark-chocolate-lovers paradise, I've been shopping at Escazu for awhile and had previously taken a behind-the-scenes tour where I learned where their beans come from and how their chocolate is made. What I still don't know is how they make such unusual ingredients so delicious. Lime and chili? Lemon and cayenne? Buddha's hand and poppyseed? It's magic. They also offer ice cream, cookies and coffee. When planning a visit, keep in mind that Escazu is a very small store with limited parking, in a bit of an unusual location just off of N. Blount Street in a neighborhood of downtown Raleigh and next door to Market Restaurant.
"Our workshop, located near downtown in the Mordecai neighborhood also serves as a retail store. We make and sell all of our products at this location, with a continually evolving selection of truffles and confections available nowhere else. We offer coffee drinks made with Counter Culture coffee, house made ice cream push-ups, soft drinks and a wide array of drinking chocolates, as well as locally made gifts."
Escazu also sells Elemental chocolate-covered fair-trade cocoa beans, which are made in Raleigh by Paul Mosca, who innovated a process to remove the shell while keeping the bean intact. Elemental does not have its own store location but may be purchased online or at Escazu and other stores throughout the Triangle.
* * *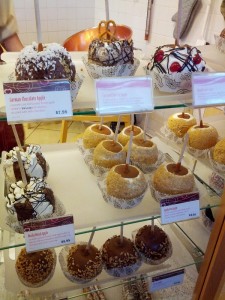 ROCKY MOUNTAIN CHOCOLATE FACTORY
Triangle Town Center, Capital Blvd., Raleigh NC 919.792.2277
Brier Creek Commons, 8521 Brier Creek Parkway, Suite 103, Raleigh, NC 919-806-8992
Rocky Mountain Chocolate Factory is based in the town of Durango on the western slope of the Rocky Mountains in Colorado. Many of their products are made in their 53,000 square foot factory, but individual stores also prepare caramel and candy apples, fudge, chocolate items and confections on-site, in full view of the customer. Apples were being made the day we visited. It's a very small store, just basically a walk-up counter within the mall. But it's easy to reach if you park and enter near the Creekside Cafes food court entrance and take the elevator up to the second level. Rocky Mountain Chocolate Factory is between the Sak's Fifth Avenue and Macy's stores. Also, chocolate coated potato chips.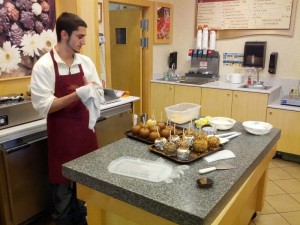 I know it was a chocolate tour, but I bought caramels for my daughter who doesn't like chocolate, and I bought an "Apple Pie" candy apple. The sales clerk cut the apple for me, which made it easier to eat and to share. It was OMG. I can't wait to have another one.
* * *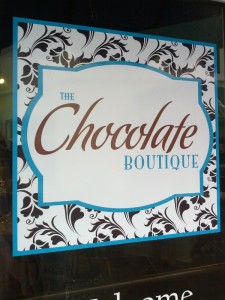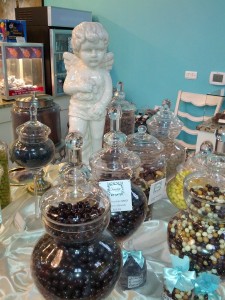 THE CHOCOLATE BOUTIQUE
8480 Honeycutt Road, Suite 100, Raleigh, NC 919.322.0960
Located in Lafayette Village, the Chocolate Boutique is both a chocolate shop and party venue. I don't think it's a bean-to-bar shop that grinds its own cocoa beans, but they do make all of their chocolates on the premises. One of my family's favorites is their peanut butter caramel truffle, and my husband loves their chocolate-covered bacon. Parties are available for children and/or adults, where you can make your own chocolates. They offer more than 1,200 molds to choose from, according to their Facebook page. Parties may be booked for a private group, or you can sign up for one of the monthly chocolate-making parties open to the public.
* * *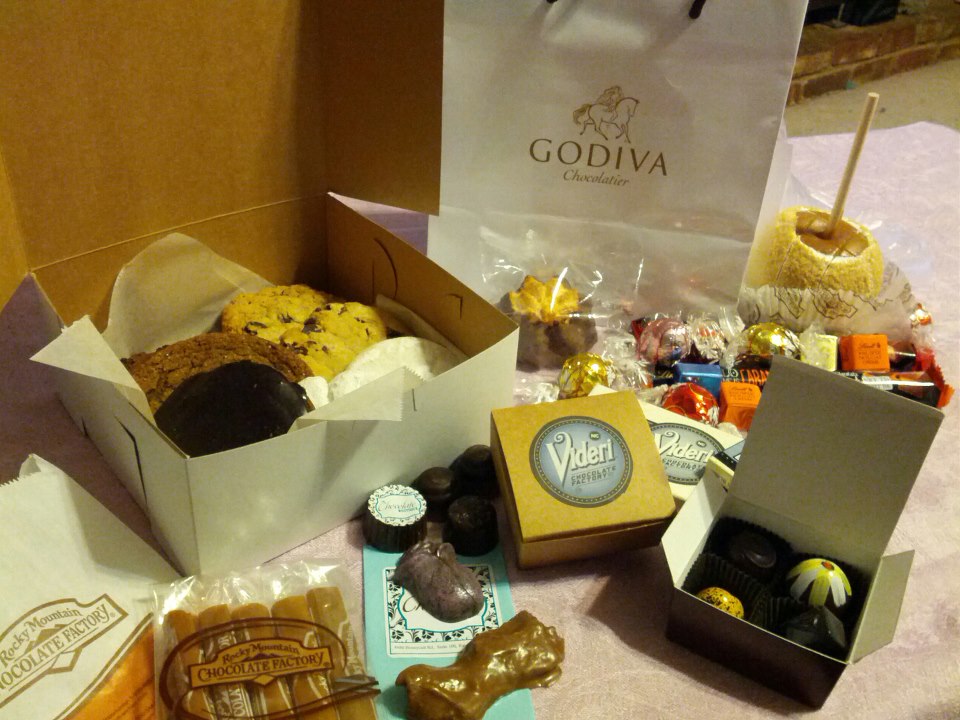 I had such a good time on the tour. It made me feel like a kid who's been out trick-or-treating all Halloween night or… just like a kid in a candy store!
~ J.L. Hilton
Connect, support, comment or contact the author here