Though I write SF/F, I tend to read classics and I love historic romance and costume dramas. Though she writes historic romance, Susanna Fraser loves science fiction and fantasy. We both have new books released this month — Stellarnet Prince and An Infamous Marriage — so we're blog swapping today. She's here to talk about geekery, and I'm on her blog talking about history. Welcome, Susanna!
— J.L. Hilton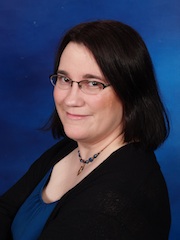 On my writing desk I have two toys that serve as my mascots–a giant plush version of Appa the sky bison from Avatar: the Last Airbender and a miniature of the Duke of Wellington on horseback, part of a whole collection of Waterloo miniatures I might buy if I had the time, money, and space to build a giant battlefield diorama in my basement.
My desk tells you my identity — I'm a geek, subspecies history geek.
On the geek front, I own the entire run of Buffy on DVD and will occasionally burst into songs from the musical episode. (If I can't get "Going Through the Motions" out of my head, I know it's time to start looking for a new day job!) I also own Firefly and always squee when Nathan Fillion makes subtle little references to it on Castle. My favorite Doctor is Nine, and my favorite Star Trek was Deep Space 9. My desktop wallpaper is from The Legend of Korra.
I turn into a total fangirl whenever Lois McMaster Bujold's name comes up. (If you haven't read her Vorkosigan Saga, you really must–wonderful characterization, and depending on the book, you get a varied and delightful mix of space opera, adventure, mystery, and romance.) I also love Naomi Novik and Jacqueline Carey, to name just two. Though I was late to the party on George RR Martin, only discovering him when Game of Thrones first aired on HBO, I'm now fully caught up on the series and can debate Jon Snow's true parentage with the best of them.
So why am I writing historical romance, rather than science fiction or fantasy? Well, it's entirely possible I will try my hand at fantasy one of these days. But aside from that, I've always been fascinated by, and occasionally obsessed with, history. I'm driven to understand the past, all the choices and chances that brought the present into being. And from my early days as a girl reading the Little House books at my mother's side, I've loved stories as a way of bringing the past to life. A good historical novel–whether romance, mystery, YA, literary, or any other genre–contains every bit as much worldbuilding to make 1066 or 1692 or 1815 real in the reader's mind as a science fiction or fantasy novel uses for its imagined setting.
What about you? What are your favorite genres, and do you stick to one or two, or are you an omnivorous reader?
I'll be giving one copy of my new release, An Infamous Marriage, to a commenter on this post in your choice of e-book format, and at the end of my blog tour I'll be giving a one commenter on the tour as a whole grand prize of a $50 gift certificate to their choice of Amazon, Barnes & Noble, or Powell's Books. You get one entry per blog tour stop you comment upon, so check out my blog for the whole schedule! The tour is starting to wind down, but there are still a few stops left!
I look forward to replying to your comments, but it'll be late in the evening in most North American time zones before I get a chance. I have a full-time 8-5 day job and don't get much time online till the evening.
* * *
Northumberland, 1815
At long last, Britain is at peace, and General Jack Armstrong is coming home to the wife he barely knows. Wed for mutual convenience, their union unconsummated, the couple has exchanged only cold, dutiful letters. With no more wars to fight, Jack is ready to attempt a peace treaty of his own.
Elizabeth Armstrong is on the warpath. She never expected fidelity from the husband she knew for only a week, but his scandalous exploits have made her the object of pity for years. Now that he's back, she has no intention of sharing her bed with him—or providing him with an heir—unless he can earn her forgiveness. No matter what feelings he ignites within her…
Jack is not expecting a spirited, confident woman in place of the meek girl he left behind. As his desire intensifies, he wants much more than a marriage in name only. But winning his wife's love may be the greatest battle he's faced yet.
* * *
Susanna Fraser wrote her first novel in fourth grade. It starred a family of talking horses who ruled a magical land. In high school she started, but never finished, a succession of tales of girls who were just like her, only with long, naturally curly and often unusually colored hair, who, perhaps because of the hair, had much greater success with boys than she ever did.
Along the way she read her hometown library's entire collection of Regency romance, fell in love with the works of Jane Austen, and discovered in Patrick O'Brian's and Bernard Cornwell's novels another side of the opening decades of the 19th century. When she started to write again as an adult, she knew exactly where she wanted to set her books. Her writing has come a long way from her youthful efforts, but she still tends to give her heroines great hair.
Susanna lives in the Pacific Northwest with her husband and daughter. When not writing or reading, she goes to baseball games, watches Chopped, Castle, and The Legend of Korra, and cooks her way through an ever-growing cookbook collection.