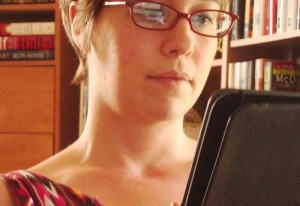 I am indebted to Alison Dasho for pulling me out of the Carina Press slush pile and making Stellarnet Rebel a reality. She loved the story and the characters as much… no, definitely even more than I did. Which I didn't think possible.
Alison not only understood the elements of good storytelling, she understood my world — its inhabitants, politics, emotions and technology — on so many levels. Her suggestions and ideas took what I thought were already great stories and made them even more amazing.
A good editor will make your writing stronger and a bad editor can destroy it (along with your self-esteem). In my 20+ years of writing, I've experienced both kinds of editors — the helpers and the destroyers. As a former newspaper reporter turned copy desk editor, I've been on both sides of the writer/editor relationship. Alison is everything I could have wanted in an editor, and several things I didn't know I needed.
I worked with her through the developmental and line edits of both Stellarnet Rebel and Stellarnet Prince. I look forward to working with her on book three.
During the low points of doubt and frustration, her encouragement, assistance and insight kept me going. I learned so much through Stellarnet Rebel, my first published novel. And just when I thought I knew everything (ha!) I learned even more through Stellarnet Prince. Because Alison is more than an editor, she's also a friend, cheerleader, fan, consultant, and shoulder to cry on (or in my case, I'm more of a ranter than a crier). She helped me through the publishing and promotion processes, too.
She edits her heart out to bring a story to life. If you're thinking about self-publishing, finding an agent or submitting your book, or you have a chance to work with her, she's worth her weight in gold-pressed latinum.
Thank you, Alison!
~ J.L. Hilton
Connect, support, comment or contact the author here