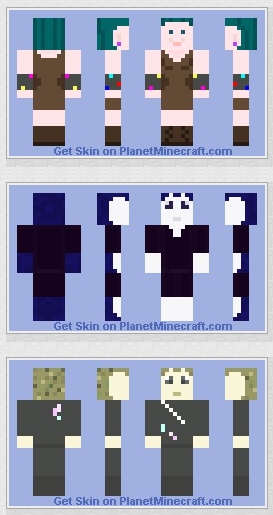 I play Minecraft, so I thought it would be fun to make skins of Genny, Duin and Belloc. It's a challenge to render anything in such simple graphics, but I think they turned out really cute.
With Genny, I gave her viridian hair, blue-green eyes, a strappy dress and her blu-tooth sort of earrings. She also has her bracers–which are basically wearable tablets, alight with colored icons and apps. The Glin have their big dolphin eyes, crypsis coloring, and wallump suits. Duin's clothing (bottom) displays his special talent for embellishment with its pearl buttons angling across his chest and the iridescent sheen.
Click on the pic to download them for free. And if you don't already play Minecraft, you should. It's not Mysteria… but it's just as addictive!