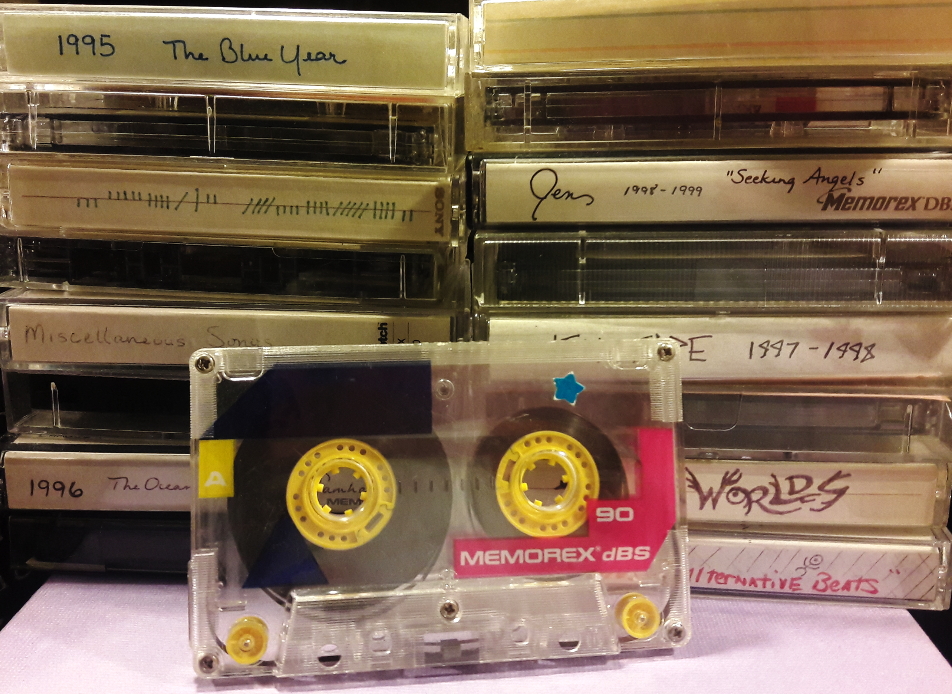 I found a box of tapes I made in the 80s and 90s. This one is labeled "The Ocean, the Stone & Samhain." In 1996, my divorce was final and I'd moved to Twentynine Palms, California, a Mojave Desert town of 14,000 people near the Joshua Tree National Park and the Marine Corps Air Ground Combat Center, aka "mick-ag-see" (MCAGCC) to the locals.
It was a year of soul searching, whirlwind romances and the intense demands of my job as a reporter, photographer and columnist at a low-paying, understaffed, high-pressure newspaper. I covered crime, business, education, outhouse races, experimental military technology, school board, city meetings, art galleries, and more.
As stressful as it was, and as blazing goddamn hot as it would get with summer temperatures in the 120s, I loved the people I worked with and I loved the town. It was the first, and possibly last, time I felt like I really belonged somewhere and was doing something meaningful. I saw it as a sacred duty to record and share the joys and sorrows of the community.
I made several wonderful friends who gave me the incredible gift of encouraging me to be myself, as funny, smart, geeky, sassy, foul-mouthed, horny, creative, witchy, wild and off-the-wall as I could be, but when I was sad or overwhelmed by life, when I wasn't strong, when I made mistakes, they were there for me then, too. Only now, twenty-five years later, do I know how very rare a gift that is.
This mixtape embraces the music of its time. I abandoned the songs that repeated over and over in past tapes while I lived fully in the present. Even the older songs here were new to me in the '90s.
Life in 1996 was a series of small adventures. I spent the first day of the year in Tijuana, Mexico, with friends. We had a pool in my housing complex and I swam frequently. I went to drive-in movies, to a friend's softball games, and off-roading in pickup trucks. I worked as a nude model and my backside hung on the wall of a local art gallery. I covered my fence in pinwheels.
Almost every night after work, we'd eat jalapeno poppers at a roadside diner, or grab chocolate-dipped ice cream cones at a walk-up shake shack, and laugh until the sun went down over the sagebrush. I gave tarot readings in the local comic book shop and learned to play Magic the Gathering. I drove my editor's red Mazda Miata covered in Christmas lights down Adobe Road in the holiday parade.
I adopted a cat from a neighbor who didn't want him. His meow sounded oddly like "murrrr-in!" so I named him Merlin. I had him for fifteen years and he was the sweetest most wonderful cat in the world.
I also met Rob, a rivet head with a birthday on Halloween. He looked and sounded like a young Captain Picard, with the suave street-smarts of Hancock from Fallout 4, and the intelligence and wisdom of both. They called him "the golden voice of MCAGCC" because he would emcee many of the base's formal events.
We moved in together the following year.
~ J.L. Hilton
Connect, support, comment or contact the author here