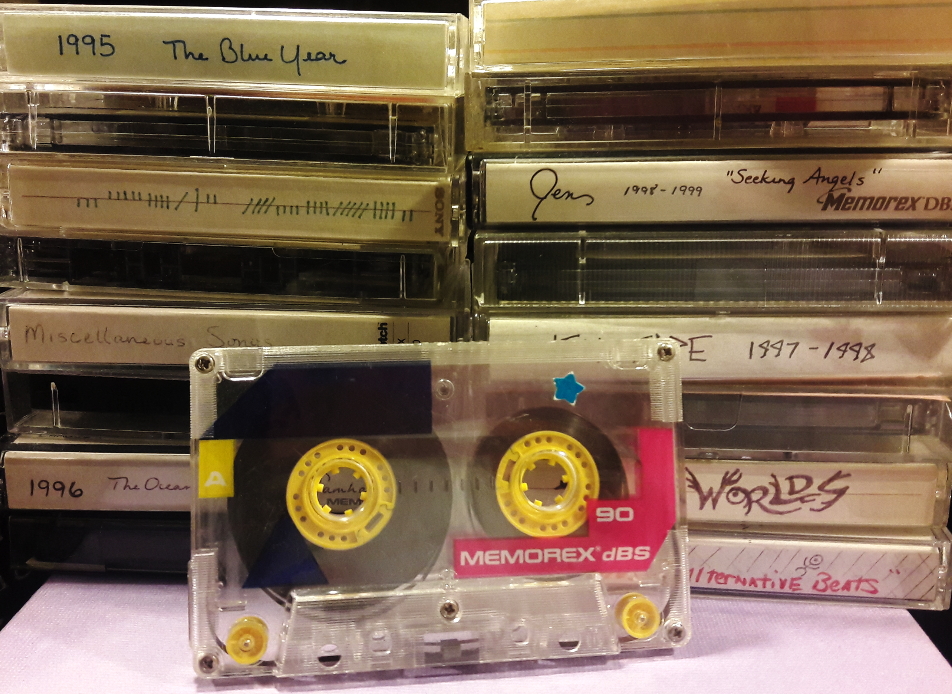 I found a box of mixtapes I made in the 80s and 90s. This one is labeled "North Meets South Enchanted Mix 1990" and was made for my friend Dustin Woods after he moved away to Northern California. I lived in Southern California at the time.
Dustin was a deep, heartfelt, romantic and intelligent person who had a passion for vampires, swords, Dungeons & Dragons, Sting, history, mythology and classical music. He was handsome, like a young Nathan Fillion.
He and I both made cloaks like kids today might use for cosplay or larping, but back then there were very few people – far as we knew – who were doing that kind of stuff. When he still lived in the Mojave Desert, he would come over to my house in the evenings, usually around 10pm, we'd put on our cloaks and go for long walks in the dark, talking about everything under the stars. It was an odd thing, but we were comfortable being odd together.
Once, for shits and giggles, he drove me an hour away to Palm Springs, to cruise the strip at night, blasting Toccata and Fugue in D Minor the way other people blasted rock or rap music.
We were goth before we knew what goth was.
For a brief time, during the summer of 1988, we worked together at Baskin Robbins. At night, when we were closing, he would wheel out the mop bucket, beeping and whistling like a robot, and say, "Come along, R2."
Though I had feelings for him, I never acted on them. I never thought I was good enough for him. He didn't make me feel that way on purpose, he wasn't arrogant or anything, totally the opposite. He just seemed like such a knight in shining armor, with a lovely family, while I was a messed up girl with an abusive family. We were both perpetually caught up in bad relationships with other people, for one reason or another, and then when he moved so far away it just wasn't an option.
We eventually fell out of touch but he is fondly remembered.
Side One
Side Two
~ J.L. Hilton
Connect, support, comment or contact the author here