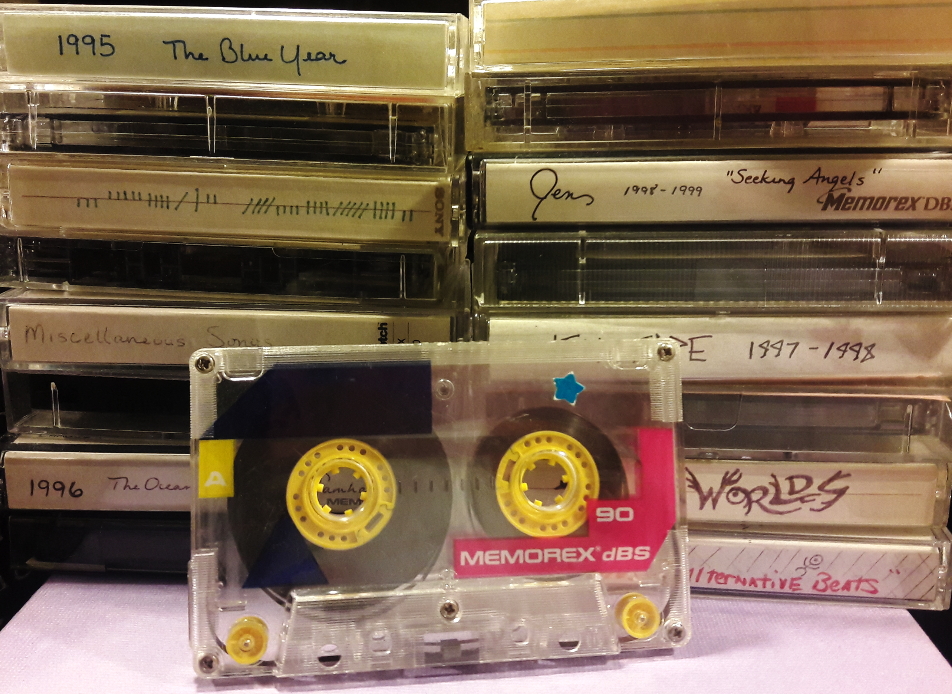 I found a box of tapes I made in the 80s and 90s. This one is labeled "Miscellaneous Songs" and is stuff I listed to a lot when I was in high school.
My friend Troy got me into Depeche Mode and my friend Melanie got me into Howard Jones. At my high school, most kids were either "new wave" or "hessian." There were a few jocks, nerds, punks and preppies, but not many.
New Wave – Devo, Adam Ant, Culture Club, Depeche Mode, Duran Duran, Howard Jones, Tears for Fears etc – wore high-tops, rolled the cuff of their jeans and the sleeves of their shirts, short hair, Boy George hats, Ferris Bueller sunglasses
Hessians – Judas Priest, Scorpions, AC/DC, Iron Maiden etc – long hair, ripped jeans (because they were poor, not because they were bought that way), raglan shirts with band names and black sleeves, bandanas tied around the knees to cover the holes in the jeans
I don't know exactly what I was. I had friends in every group and listened to every kind of music. Melanie called me Ferris Bueller but I don't think I was popular, just notorious.
1) Dead Man's Party (Oingo Boingo with Danny Elfman, 1985)
2) Take On Me (A-ha, 1984)
3) My Love I'll Always Show (Stryper, 1986)
4) Twilight (ELO, 1981)
5) Glory of Love (Chicago, 1986)
6) In Your Eyes (Peter Gabriel, 1986)
7) Memory (Cats/Elaine Paige, 1981)
8) Hard Habit to Break (Chicago, 1984)
9) Remember the Feeling (Chicago, 1984)
10) You're the Inspiration (Chicago, 1984)
11) If You Leave (OMD, 1986)
12) Left of Center (Suzanne Vega, 1986)
13) Pretty in Pink (The Psychedelic Furs, 1986)
14) No One is to Blame (Howard Jones, 1985)
15) Somebody (Depeche Mode, 1984)
~ J.L. Hilton
Connect, support, comment or contact the author here