Escapist Expo is a 3-day convention in Durham, NC, where The Escapist magazine highlights video games, tabletop games, card games, science fiction, fantasy, comics and music. This year's event happened over the weekend of October 4-6 and I'm finally getting around to writing about it!
Last year, I shared a table with Bull Spec, a regional fiction magazine, promoting my Stellarnet Series along with many other local authors. This year I had my own table and peddled my handmade jewelry beside my post-cyberpunk fiction and the non-fiction steampunk art books in which my design work is featured.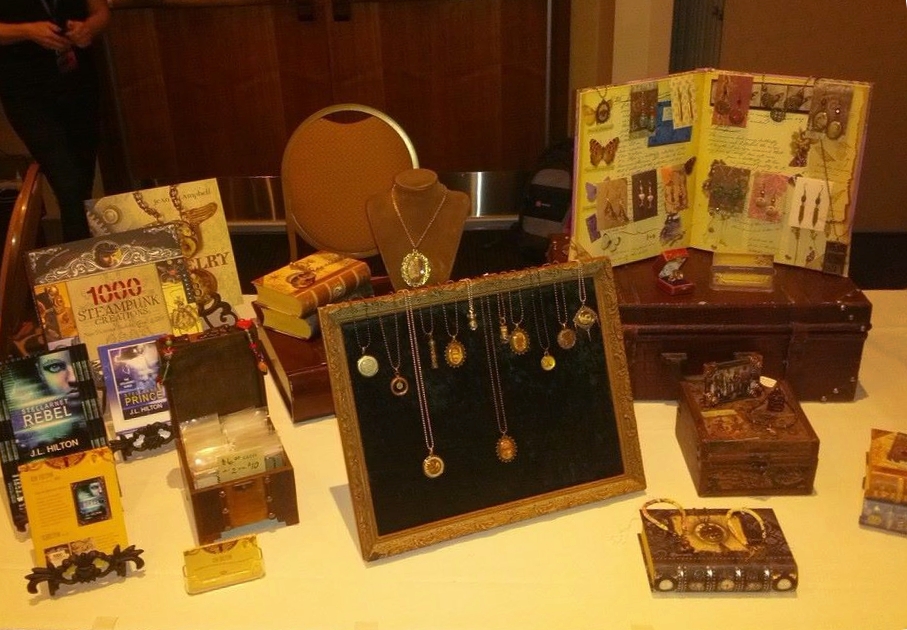 I wish I could tell you about all of the exciting and amazing things that happened at the expo — Totalbiscuit, Yahtzee Croshaw, live-action zombie Nerf games, cosplay contest, Geek Trivia, MTG tourney, Cards Against Humanity, D20 Girls, panels — but I suffered a screwed up shoulder and spent most of my time behind my table, when I wasn't resting and loading up on ibuprofen. Many thanks to my minions and the sweet expo volunteer who helped me lug my junk to the ballroom.
The expo crowd was a good one, though. Young and young-at-heart, upbeat, savvy and entertaining. I enjoyed meeting the folks who stopped by to peruse my shiny trinkets and I gorged on a visual feast of cool costumes.
For part of the weekend, I also hosted an old Underwood manual typewriter, courtesy of Bull Spec, upon which participants were encouraged to experience the origins of the "shift" key or figure out how to type an exclamation point. "How do you go to the next line?" was asked several times. "I thought the @ symbol was invented for the Internet," someone said. It's kind of creepy living long enough to witness an entire generation of grown adults who've never even touched an item I grew up with.
More goodies from the Escapist Expo:
Official photos from the Escapist Expo
Official videos from the Escapist Expo
Pics of the crossplay dwarves on Facebook
Author and video game writer Richard Dansky
Fantasy illustrator Cynthia Sheppard
~ J.L. Hilton
Connect, support, comment or contact the author here