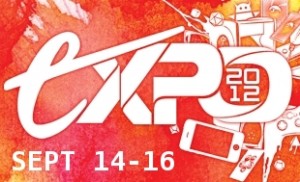 As much as I love my Stellarnet Series, by 4pm on day two of the Escapist Expo (estimated attendance between five-thousand and six-kajillion) I grew tired of giving the spiel.
"It's about an interstellar news blogger who meets an alien freedom fighter in Earth's first deep space colony…"
Blah blah blah.
I'd describe the war between the Glin and the Tikati, the first alien races discovered by humanity, and how our heroine breaks that story of that war to the Stellarnet while using her blog to convince Earth to assist Duin's oppressed people.
If I still held their interest, I'd go on describing the series as post-cyberpunk, with a lot of digital technology and video games, but not as dark and dystopian as Matrix or Blade Runner. "Sort of Babylon 5 meets V for Vendetta. Book one came out in January. The sequel is coming out in November, and I'm working on book three, now."
This was my goal, after all, to promote my science fiction books, and also to assist Bull Spec with its own promotions. The magazine is an active supporter of regional authors and artists. It's been an enthusiastic friend of mine ever since I met the founder and publisher Sam Montgomery-Blinn at NASFIC in 2010.
Sharing the Bull Spec table, I also spent some time with Richard Dansky (author, RPG developer and video game writer), Natania Barron (author, fiction editor for Bull Spec and blogger for Wired magazine), Bill Bridges (Senior Content Designer at CCP Games / White Wolf), various Charlotte Geeks, the crew of ConTemporal, and Cynthia Sheppard (fantasy artist). I met game developers, authors, artists, college students, aspiring writers, bored parents, photographers, Minecraft characters, Escapist magazine publishers and staff, and D20 girls. People came from all over the country, some even driving eight hours or more for a chance to meet Yahtzee Croshaw and play in the Gears of War 3 tournament.
One attendee discussed how some science fiction stories lacked character development with believable motivations. The genre relied on violence and gadgetry without bothering to explore "what it means to be human." I waved frantically and gesticulated to my book covers while grunting with enthusiasm. At least, that's what it felt like I did. Writing is one thing, but (unlike Duin) I'm not adept at eloquent phrasing on the fly. I must have made some noises that sounded interesting, because he agreed to "check it out." And he seemed sincere.
Another attendee described her discovery that "romance" no longer meant bodice-rippers with vapid heroines who aspire only to get married, nor do the books center on seduction. I beg her pardon for paraphrasing her insightful words, but the gist of it went… "It seems as if any novel written by a woman, with a strong female lead, is automatically labeled a 'romance,' nowadays. Even if it's fantasy, steampunk, or whatever. So, I've started reading a lot more 'romances.'"
A few men noted the bare-chested Belloc on the cover of Stellarnet Prince and said, "I don't read chick books." One guy complained, "Why is it every time a woman writes a science fiction novel with a female main character, it has to have romance?" I suggested that it might be the same reason why every man who writes fiction with a male main character, the hero ends up getting laid. I think it's to his credit that he subsequently shook my hand and agreed to look my books up online.
Overall, I had a great response to the Stellarnet Series. After doing Illogicon, Stellarcon, ConCarolinas, ConTemporal and NC Speculative Fiction Night this year, this was the first event where several people asked if my books were available as ebooks and audio books, instead of asking if it's on the shelves of B&N and/or why I'm not selling any print copies. To be honest, it's the first event where people even asked questions about the novels at all. At other conventions, the art books featuring my steampunk jewelry designs garnered a lot more attention.
The expo was not just sci-fi or steampunk fans, but fellow gamers and technophiles. This was my audience. One woman even squeed and asked for my autograph. She already owned Stellarnet Rebel, and didn't realize I was a local author. Several other people were just excited to read something cyberpunk. "There's not enough of that genre," said one person. I also heard, "I'm sick of vampires and steampunk."
But by 4pm on Saturday, I was fizzling. When asked about my amazingly epic wonderful novel that everyone in the expo should buy and read, I hope I can be forgiven for mumbling, "It's about a blogger and a rebel, with lots of sex, violence, and video games."
Pause.
"Did you say, 'sex, violence and video games?'"
"Yep."
"That sounds great!" He took a promotional postcard.
Maybe I should start using that as my pitch?
– J.L. Hilton
Here's a video of the expo by Penny Photography…
Expo follow up by Natania Barron
Expo follow up by Mark L. Van Name
"At the Expo: Diversity and Togetherness" by Escapist writer Marshall Honorof
Hour of Love with Escapist gaming critics