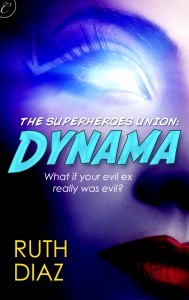 Every mom is a kind of superhero, but what if there's a mom who really is a superhero? And what if her evil ex is truly eeeeeevil? This is the premise of Ruth Diaz's debut novella, Dynama, now available DRM-free direct from Carina Press, or on Amazon and B&N. You can read an excerpt here.
I had some questions for Ruth. Here are her SUPER answers.

JLH: Have you always wanted to be a novelist?
RD: Maybe not always, but certainly by the time I was fifteen. I never expected to make a living at it, but there have always been stories in my head that just need to come out. And I distinctly remember complaining to my mother as a teenager that all my story ideas seemed to be novel-length ideas.
JLH: Who's your favorite superhero?
RD: As a kid, I was all about Firestar, from the Spiderman cartoon that was on TV at the time. But over time, I've become a Batman aficionado. Not that I didn't enjoy Adam West's Batman, but what really captured my attention was the cartoon that ran in the 90s. I liked the dark grittiness of a superhero who was not invulnerable, who was not in the limelight, and who did not actually have superpowers. He was just a guy determined to do right, who had made his body into the best weapon it could be and had the resources to support his operation.
JLH: How do you feel about the way women are portrayed in comics and/or superhero movies? I had a horrific experience when my daughter watched Daredevil with me. She really liked Elektra and was going on and on about how cool she was… then Elektra was violently, graphically killed! What a terrible thing to do to a little girl. Give her someone to identify with, a strong heroic woman, and then destroy her so violently. I was so pissed.
RD: Women in a superheroes milieu have faced a long and arduous battle against objectification. The classic example is from a Green Lantern comic in which the hero's girlfriend is killed and stuffed into his refrigerator for him to find. The point of her death is to cause him pain–as if she had no existence outside of her relationship to him. Historically, women in comics exist to reward the hero, to be rescued by the hero, to force the hero to face moral crises, or to cause the hero pain. So the first fight for women in this milieu is to achieve their own identities, separate from any man.
Enter the superheroines. Of course, even with superpowers, they are still women and are still fighting for identity. Think of the best-known female superheroes. Sure, there's Wonder Woman and Storm, but for a lot of us, Supergirl and Batgirl also spring readily to mind–women whose very superhero names make them adjunct to some man who did it first. Even when this isn't the case, we often find superheroines in a secondary role, vastly outnumbered by their male counterparts, often underpowered by comparison to them, almost always subject to their orders, and required to look sexy while saving the world. And sometimes, they're still fridged. What kind of message does that send to girls like your daughter who identify with them? Don't be too super, it'll just get you killed?
So the challenge of presenting superheroes right now is largely one of avoiding that long history of women as objects. Because yeah, we want our daughters to look at them as role models and not see them–and therefore themselves–only in relationship to the men in their lives. That's something I tried to keep firmly in mind as I was writing The Superheroes Union: Dynama. My heroine's team consists of three women and two men. She has strong feelings on painting a target on her chest, whether that's colorful costuming or cleavage. And the only man who tries to define her in relation to himself is the villain.
JLH: What's your next project?
I have two works in progress right now. One of them is the second Superheroes Union novella, which will be a love story between two men hunting down two different super villains, and who are about to be very surprised by what they find. The other, I actually started before I ever wrote the Dynama story– it just keeps taking a backseat to my editing work and other time-sensitive projects. It's MMF space opera romance between a bitter old spacer who lost everything to a war, a genius mechanic trying to keep food on the table for her family, and an escaped slave with no idea what he's good for except sex and soldiering. We'll see which one I get written first. *g *
JLH: Oooh! I think I like the sound of that threeway space romance! (Big surprise to my readers, right? lol) Anything else you want to share with us?
RD: For another week or so, I'm also doing a swag giveaway. Visit my blog for a chance to win a Superheroes Union totebag or T-shirt.
JLH: Thanks, Ruth! It's been a pleasure. I wish you much success with the Superheroes Union series!
Ruth Diaz writes genre romances about non-mainstream relationships. She hides a number of publications in a different genre under another name, but The Superheroes Union: Dynama is her first romance publication. For more information, you can subscribe to her blog, like her on Facebook, or follow @RuthDiazWrites on Twitter (where she is most active and, well, opinionated).
---
What if your evil ex really was evil?
TJ Gutierrez used to be a superhero. But after the birth of her twins seven years ago, she hung up the yellow spandex. Until the day her archenemy and ex-husband, Singularity, breaks out of prison. When it becomes clear he's after the kids, she's forced to call the nanny helpline—and once again become…Dynama!
Annmarie Smith doesn't have a superpower. She saves the world by keeping kids safe while their parents fight evil. She temporarily moves in with TJ, and the way the magnetic mama puts family first captures Annmarie's respect, and maybe her heart—even though she knows better than to fall for a superhero. Still, it's hard to resist their wicked chemistry. Kapow!
But they can only hide from the world for so long. When Singularity's quest for custody puts the kids' lives in danger, can the two women conquer the evil villain and save TJ's family—all before their first date?
"Written superhero fiction, divorced from graphical narrative, is still an emerging genre. Accordingly, the success of authors writing it varies; but this novel holds up well. Dynama takes place in what I would consider a standard superhero version of modern reality. Strong characters, well-written plot, and sweet and believable romance make this novel worth the read." – Lesbrary.com