Now that you have a new Kindle, Nook, tablet or smartphone, why not load it up with some wonderful things to read? Throughout the month of January, I'll be posting suggestions to help you choose a good book to cuddle up with on those cold winter nights!
* * *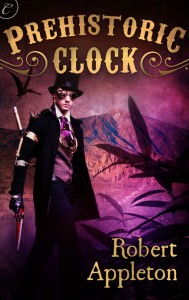 PREHISTORIC CLOCK
Steampunk/Time Travel by Robert Appleton
Fellow EPIC Award finalist for best science fiction ebook is one of my favorite authors, Robert Appleton, and his steampunk time travel adventure Prehistoric Clock. Read it if you'd like to find out what happens when some airship pirates and a chunk of Victorian-era alternate-reality London are transported back to the age of dinosaurs. – J.L. Hilton
Find it at Carina Press, Amazon and Audible (audio book)
Robert Appleton is also the award-winning author of three science fiction books published in 2012 by Carina Press: Alien Velocity, Pyro Canyon, and Cyber Sparks, and the science fiction adventure Sparks in Cosmic Dust and steampunk mystery The Mysterious Lady Law in 2011. 
* * *

ASHER'S DILEMMA
Steampunk romance by Coleen Kwan
If you like time travel, Victorian London, incredible inventions, and star-crossed lovers, then read Asher's Dilemma! Inventor extraordinaire Asher Quigley faces a terrible dilemma — the only way he can save Minerva Lambkin, the woman he loves, is by destroying his greatest invention. And the price could be his own future.
Find it at Amazon , B&N, iTunes
Author Coleen Kwan has been a bookworm all her life. At school English was her favorite subject, but for some reason she decided on a career in IT. After many years of programming, she wondered what else there was in life — and discovered writing. She loves writing contemporary romance and steampunk romance. Coleen lives in Sydney, Australia with her partner and two children. When she isn't writing she enjoys avoiding housework, eating chocolate, and watching The Office. Find out more at her website www.coleenkwan.com.
* * *
MOONLIGHT & MECHANICALS
Steampunk Romance w/supernatural by Cindy Spencer Pape
A convention-defying heroine, a sexy werewolf Inspector, a clockwork dog, corsets, airships and dastardly villians, the latest installment in Cindy Spencer Pape's EPIC Award-winning Gaslight Chronicles combines intrigue, romance, and steampunk into one wild ride.
One of the top 5 romance e-books of the year. "Possibly the ultimate in steampunk romance." ~Library Journal
"A crossover genre story that is an utter delight."~ Romantic Times Book Reviews
Find it on Carina Press, Amazon, B&N
Award-winning author Cindy Spencer Pape firmly believes in happily-ever-after. Married for more than twenty-five years to her own, sometimes-kilted hero, she lives in southern Michigan with him and two grown sons, along with an ever-changing menagerie of pets.  Author of more than 40 books, Cindy has been, among other things, a banker, a teacher, and an elected politician, but mostly an environmental educator, though now she is lucky enough to write full-time. Her degrees in zoology and animal behavior almost help her comprehend the male humans who share her household. Website, blog, newsletter group, Twitter and Facebook.
* * *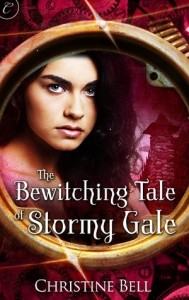 THE BEWITCHING TALE OF STORMY GALE
Steampunk Time Travel by Christine Bell
This is the sequel to The Twisted Tale of Stormy Gale, the adventure of a former Victorian street urchin turned time pirate who is adopted by an inventor and grows up in the 1990s with a brother named Bacon Frogs. Stormy is on the tail of a suspicious man seeking mercury in 1841 London, and ends up in the middle of a Salem witch hunt. A little bit Doctor Who, a little bit Mission Impossible (cue the theme music: dun dun da-da…).
Find it on Carina Press, Amazon, B&N
* * *

For more suggestions, see…
Jan 7 – Science Fiction
Jan 9 – Paranormal
Jan 11 – Western
Jan 14 – Steampunk
Jan 16 – Historical Romance
Jan 18 – Erotic
Jan 21 – Romantic Suspense
Jan 23 – Regency
Jan 25 – Mystery
Jan 28 – Contemporary Romance
Jan 30 – Fantasy