Now that you have a new Kindle, Nook, tablet or smartphone, why not load it up with some wonderful things to read? Throughout the month of January, I'll be posting suggestions to help you choose a good book to cuddle up with on those cold winter nights!
* * *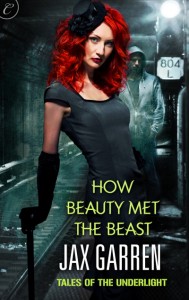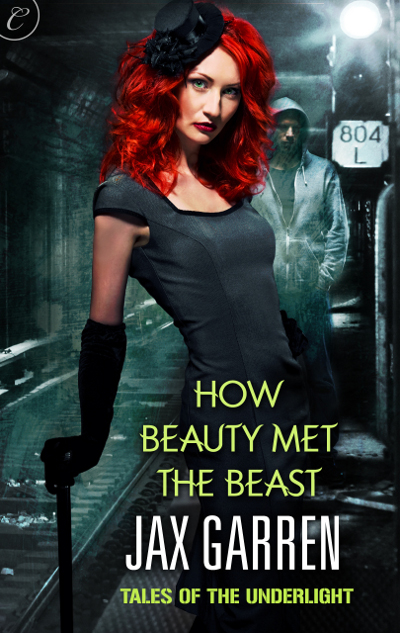 HOW BEAUTY MET THE BEAST
Paranormal science fiction romance by Jax Garren
Read How Beauty Met the Beast if you're looking for a series of fairy tale romances set in a modern world controlled by corporate greed and run from the shadows by the cult of merciless goddess. It's a novella length Beauty and the Beast tale in which a burlesque dancer and a scarred Army Ranger team up with a colony of anarchists to fight the power. Part 2, How Beauty Saved the Beast, comes out in February and the finale, How Beauty Loved the Beast, releases in May.
"Hauk and Jolie's love goes beyond the physical to something much deeper. Jax Garren has created something magical in How Beauty Met the Beast." – Jessica Scott, author of Because of You and Until There Was You
"The characters are fascinating, the love story is swoon-worthy, and the plot kept me flipping pages all night." – Feminist Fairy Tale Reviews, 4.5 stars
Find it at Carina Press, Amazon and Barnes & Noble
Author Jax Garren is descended from Valkyries and Vikings (she's part Swedish) but was raised a small town girl in the Texas Hill Country. She graduated from The University of Texas with a degree in English and a minor in Latin then found her own Happily Ever After with a handsome engineer who is saving the world through clean energy technology. You can find her online at jaxgarren.com, on Twitter as JCGarren or Facebook at facebook.com/JaxGarren.
* * *
PACK AND COVEN
Paranormal Romance/Shifters & Witches by Jody Wallace
Alpha shifters! You readers know all about alpha shifters, don't you? They swagger, they're arrogant, they're male, they dominate the heroine, and so on. I confess, there's an alpha shifter in Pack and Coven. Name of Harry. He's a wolf sometimes. Othertimes he's lazy, and loves steak and bunco (I know, right??) and pretty women. The prettiest woman he's ever seen is June. But the crazy woman says she's a witch. Werewolves, sure, but witches? Come on. However, if she wants to help him escape the local wolf pack, that's okay by Harry. He'll even let her drive.
So if you, dear reader, want to read about an alpha who's not an alph-ass and the witchy woman who's his dream come true, Pack and Coven might be the book for you.
Find it at All Romance Ebooks, Amazon, Audible (audio format), Barnes & Noble, Books on Board, Carina Press, Diesel Ebooks
Author Jody Wallace grew up in the South in a very rural area. She went to school a long time and ended up with a Master's Degree in Creative Writing. Her resume includes college English instructor, technical documents editor, market analyst, web designer, and general, all around pain in the butt. Ms. Wallace is published in romance fiction under the names Jody Wallace and Ellie Marvel. She has always lived with cats, and they have always been mean. To discover other books by Ms. Wallace, visit her website. You can also find her at Twitter and Facebook. To discover meankitties, visit the cat's website at www.meankitty.com.
DEMON CROSSINGS
Paranormal Romance by Eleri Stone

Read Demon Crossings for a contemporary fantasy based on Norse mythology with a sexy romance at its core. Magic, shapeshifters, portals to alternate dimensions and the sword-wielding descendants of Norse gods. Join Grace and a modern-day version of the Wild Hunt as they cross into post-apocalyptic Asgard to rescue a stolen child. Book Two in Twilight of the Gods coming June 2013.
"…weaving the best elements of Paranormal Romance seamlessly into an addictive concoction of suspense, mystery, fantasy, mythology, steamy intimacy, and a little horror thrown in for seasoning." — GraveTells Must Read! January 2012 Book of the Month
Find it at Carina Press, Amazon, B&N and Audible
Author Eleri Stone was born and raised in New Jersey. She graduated from the University of Iowa, married her college sweetheart, and settled in the Midwest where she still lives with her husband and their three children. A lifelong fan of fantasy, she started reading romance as an adult and it became an instant favorite. While she loves both genres separately, she likes it best when they're combined. www.eleristone.com
* * *
Some books fit more than one category — such as Paranormal Mystery or Erotic Historical — so be sure to visit all of the links for some great reads!
Jan 7 – Science Fiction
Jan 9 – Paranormal
Jan 11 – Western
Jan 14 – Steampunk
Jan 16 – Historical Romance
Jan 18 – Erotic
Jan 21 – Romantic Suspense
Jan 23 – Regency
Jan 25 – Mystery
Jan 28 – Contemporary Romance
Jan 30 – Fantasy