I recently read pirate fantasy adventure TEN RUBY TRICK by Julia Knight. It's been out for awhile (January 2011), but what can I say? I'm just that far behind on my books to read!
I loved this one. The descriptions, action adventure, world-building and fantasy elements were original and fun. The characters felt real and made me care about them. Here's one of my favorite paragraphs. It's one of the more romantic moments, but trust me, there's tons of action, adventure, brigands, booty, magic and plot twists, too.
"All right, six weeks." He kissed her again, enough of a kiss to last him that long. He slid his hands down her arms and twined them in hers, pushed her back against the wall, and let everything come out through his lips. It wasn't enough, he needed words, and he didn't have the right ones, he never did with Josie. With anyone else he could have said it and not meant it, but with her, in meaning it, he couldn't say it.
I contacted Julia Knight, and she's been kind enough to answer some questions about her pirates (or, as they refer to themselves, privateers)…
JLH: I love the characters you created, even the secondary characters with small roles to play. Josie and Van Gast were great, but my favorites were Holden, Quint, Guld and Skrymir. Which characters did you enjoy writing the most, and why?
JK: Ooh I loved writing them all! Josie and Van Gast in the same scene was always a blast – they love to tease each other, especially when pretending to hate each other. However I have a very soft spot for Holden – at times it got quite painful to write him, but I wanted him to have his time. Bless.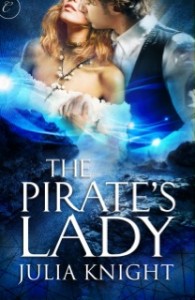 JLH: Who returns in the sequel, The Pirate's Lady?
JK: Josie, Van Gast, Holden, Guld and Skrymir are all there, plus one or two new characters, just to mix things up a bit!
JLH: How did you come up with the idea of magic crystals covering the skin of the powerful Remorian mages? It was such a vivid, interesting way of conveying their power.
JK: It came to me in a dream…lol, well not quite. You know when you're half asleep and half awake and just running things through your head? It just sort of popped up there really, and then when I woke up properly I thought, now this is a magic system I can play with!
JLH: Yes, I get some of my best ideas as I'm falling asleep! Sometimes, it's as if my characters are just carrying on in my brain without me. I used to keep paper and pen by my bed, but now I sleep about two feet from my laptop, so sometimes I get up and write down whatever they're up to that night.
There are some very strong themes of freedom, oppression, slavery and rebellion in your writing. Was this intentional from the start, or did it grow out of the characters' personalities as you wrote?
JK: Those themes seem to pop up in everything I write, in one form or another – especially the fighting back against slavery, even if it's only the slavery of other people's expectations. It probably says something deep and existential about me.
JLH: Well, I like it. Ten Ruby Trick is classified by the publisher under "pirate," "fantasy" and "action adventure." Which, btw, you did a great job of combining these elements to build a world both magical and original. There are romantic bits, but it had plenty of fast-paced plot and swashbuckling fun. I noticed that The Pirate's Lady is classified as "pirates," "fantasy" and "romance." Is there more romance in book two, or does it stick with a similar action:romance ratio?
JK: The action/romance ratio is about the same, I'd say. It's tricky here without giving things away but…A particular staple of romance stories is absent in the first, but not in the second, enabling it to be a true romance where Ten Ruby was 'with romantic elements'.
JLH: Will there be a third book in the Pirates of Estovan series?
JK: I'd really love to write a third – I have an idea for Skrymir to take the lead as it happens – but I'm pretty booked up, writing wise, for the time being. I really hope to come back to these guys though, because they were such great fun to write about.
JLH: Oh, I'd love to read more about Skrymir and his people, the Gan. His culture sounded so intriguing. Meanwhile, I'll have to add The Wicked Lady, The Viking's Sacrifice and 2010 EPIC award winner Ilfayne's Bane to my reading list. Thanks for chatting and I wish you favorable winds and continued success!
****
Julia Knight is married with two children and the world's daftest dog. She lives in Sussex, UK and when not writing she likes motorbikes, watching wrestling (it's the muscles, sweat and baby oil combo) and exploring new ways to get a giggle out of life. Julia is a member of the T Party writers' group. For more information see her website or follow her on Twitter.