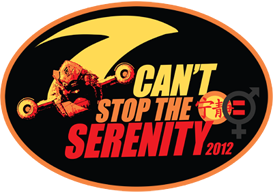 Can't Stop the Serenity asked its global sponsors to talk about why we support CSTS.
They posted my answer this week.
I organized the first Raleigh screening in 2006, because I loved Firefly. I loved it with all my heart and soul, in a way I'd never loved any TV show before. At the time, I didn't expect to raise money for Equality Now. I expected to pay hundreds of dollars for the venue rental and movie rights out of my own pocket, to sit in a theater with maybe twelve other people and watch Serenity on the big damn screen again.
Instead, the 200-seat theater sold out. We had a costume contest, and several people actually showed up in costume. People bought raffle tickets. A donation was made to Equality Now. And I made new friends who have become like family.
Over the years, I learned more about Equality Now, and I found out about Kids Need to Read. While I love the work of these two organizations, and while I am proud to say that Raleigh has raised more than $21,500.00 for EN and $2,800.00 for KNTR (so far), the reason I keep coming back to this, year after year, is that family I mentioned.
I've been involved in a lot of clubs, groups, fandoms and events in my life. But I've never known as many generous, enthusiastic, resourceful, hard-working, intelligent and wonderful people as the Browncoats I've met doing Can't Stop the Serenity.
Love keeps this thing flying, and love is why I'm here.
Jen