Inventing character names can be fun, but it can also be a challenge. For Duin, I wanted something that sounded aqueous. His name is based on the sound of a water drop — you know, that "doo-win" noise Cameron makes in "Ferris Bueller's Day Off," by flicking his cheek with his finger. It's also symbolic. There are several references in the book to Duin being a water drop that creates ripples across the surface of a pool — the way his actions create repercussions for himself, his loved ones, and his world.
To be honest, I'm not sure how I came up with Belloc's name. It has several connotations that were not (consciously) on my mind when I chose it. Bel is a deity in various mythologies including Celtic, and is an ancient title meaning "lord" or "master." The word "bell" also reflects his voice being clear and beautiful as one. And "loch" is Irish for lake.
Belloq is also Indiana Jones' nemesis — and Sallah is Indy's friend. Duin's mother is named Sala. But that was not intentional, I swear. I didn't even realize until I recently re-watched Raiders of the Lost Ark. lolz
There are tons of secondary and supporting characters whose names I have to invent for the story. Everyone from Colonel Villanueva (whose name means "new city," btw, sort of playing off of Asteria being a new colony), to the neighbors in Genny's block, to the orphans who populate Mose's school. (Mose, by the way, is in homage to Harriet "Moses" Tubman, one of my personal heroes.)
Some names are borrowed from my life. "Jack Callahan," a pseudonym adopted by Belloc when he sneaks into the Military Zone, is actually the name of a friend. "Tara Hamilton," the U.S. president in the upcoming sequel, Stellarnet Prince, is named after my oldest daughter.
But sometimes I just need a name. Right now,  I need to name the U.S. permanent member of the United Nations Security Council in the year 2062. It is a brief but important scene, between Duin and the people who hold Glin's future as a UN member in their hands.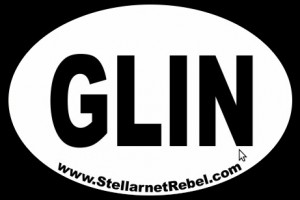 So, for two weeks, between now and April 11, I'm giving readers the opportunity to see their name within Stellarnet Prince.
Earn points to win. The person with the most points will also receive a free digital copy (epub or pdf) of Stellarnet Prince (when it is available in November 2012), and will receive a "GLIN" sticker and a nagyx necklace based on the soul stone Duin gives to J'ni in Stellarnet Rebel.
NOTE 4-16-2012 CONTEST IS ENDED.
Here's how to get points:
1) If you don't already, please follow me on one of the social media platforms. Every add, "like" or "follow" will get you one point.
Note: If you are already following, thank you! But if you unfollow, and then re-add, it doesn't count!
2) Post a positive review of Stellarnet Rebel somewhere on the Net. This includes Amazon, Goodreads, Google books, Audible, B&N, similar sites, or your blog. Every review dated between now and April 11 will get you two points each.
Note: Please make sure you've read the book, and your positive review is your honest opinion. I'm not asking you to lie!
3) Share Stellarnet Rebel with your friends on social media. For every Facebook post, Twitter tweet or Google+ update, you'll get one point.
4) Add a link to the official Stellarnet Rebel website — www.StellarnetRebel.com — on your personal blog or web page, using one of the graphics below, to earn five points.
Note: That's five points per blog, not per each page of your blog. Same for websites.
Finally, make sure you email me at J.L.Hilton.author (at) gmail.com or post a comment here, or on my Facebook page, letting me know what you did and where, and how many points you have. I must be able to verify all of your points by seeing your links, posts, reviews, etc.

Winner will be contacted on April 12, 2012.
- J.L. Hilton