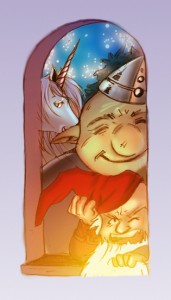 It's been a crazy week. OK, a crazy month. Tornadoes, taxes, parties, meetings, renewing my driver's license, new flooring, a book deal, a mystery condition that made me look like Sloth from Goonies (we suspect I somehow got poison ivy in my eye). So today I was looking forward to doing nothing. No music lessons for the kids, no homeschooling, no errands to run. I didn't even make any meals, I just ate my friend Maggie's scrumptious sugar cookies all day.
My husband called around 6pm to ask how things were going. I said, "It's great. I'm doing nothing… Just setting up this free online children's book I created with artist Patricia Leonardo. I did the layout for each book page, composed a back cover and title page, and put it on my website."
"That doesn't sound like nothing," he said.
He's right. It's not nothing. It's very, very something. But it's nothing I had to do, only something I wanted to do. So it felt a lot more like fun and a lot less like stress. And doing it while eating cookies didn't hurt.
So now you can read PRINCESS AMBER'S BED the free online children's book here on this website. You are welcome to print it out for personal non-commercial use.
The book turned out really sweet. It's based on a bedtime story I made up for my daughter, who likes to try and fall asleep anywhere in the house except her own bed. I've been telling this story to her for a few years, and I thought it would be fun to make it into a book with pictures. And now that it's online, I can share it with others.
Patricia was fantastic to work with. I met her through deviantART and she's absolutely amazing as a person, a professional, and as an artist. We got on very well, which might be because we both love pre-Raphaelite art, Loreena McKennitt, Lord of the Rings, Labyrinth, and RAISTLIN MAJERE. What's not to love about emo enchanters, woeful wizards and misunderstood mages?
~ J.L. Hilton